Our Trending Color of the Month: Rice Paddy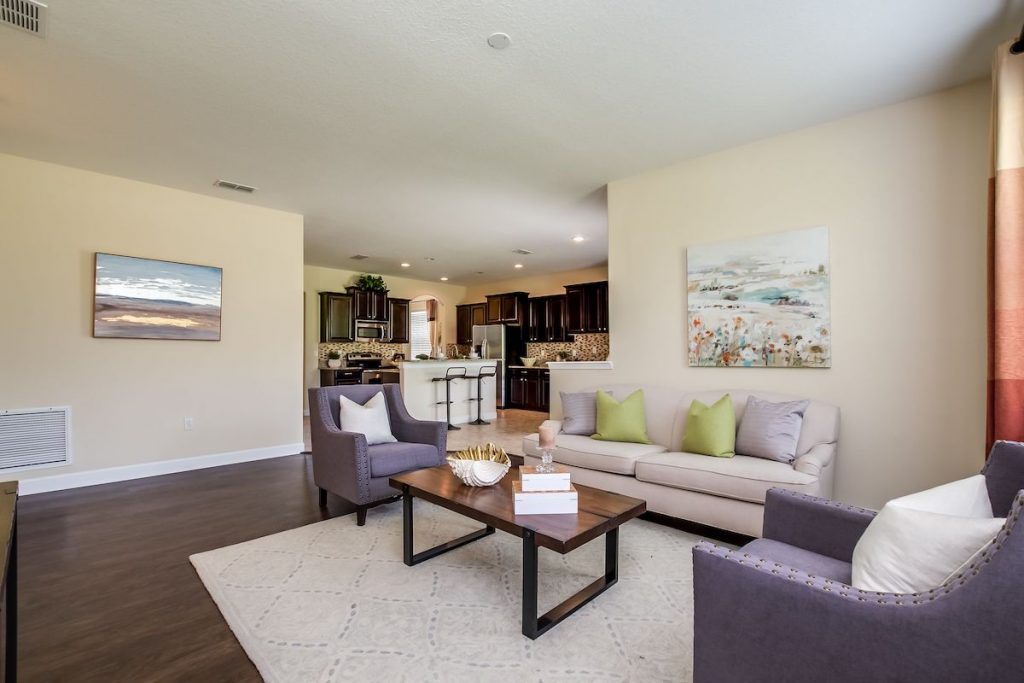 At MHM Professional Staging, we love using color to turn an ordinary house into a buyer's dream home. Each month, our designers share a color that inspires their staging designs. This month, our trending color is Rice Paddy (SW 6414), one of our owner Megan Morris' favorite shades of light green. It's easy on the eyes like July's color of the month, Enlightened Lime (SW6721).
About the Hue
Rice Paddy works great as a neutral. It has some yellow/beigey undertones that add warmth to the color. As a shade of green, it is a grounding color that can help you feel more connected to nature. It's a calm color known to reduce stress. It can increase one's ability to focus and also helps improve reading comprehension.
How and When to Use Rice Paddy
Rice Paddy has an LRV, or light reflecting value, of 66. This means the color absorbs a moderate amount of light. This makes it safe to paint full rooms in this color. Since it is a great neutral, it can appeal to a wider market and is therefore wonderful for staging homes.
Because the color has some yellow/beigey undertones, it's important to test how this color looks with the lighting in your home. You'll want to see how the color adjusts at different times of the day. Using lighting that is more yellow can overpower the beautiful green hues that exist in Rice Paddy.
Versatile Enough for Any Room
This color is versatile enough to use for any room. Because it's green hues are great for focus and concentration, the color is ideal for offices or reading nooks. It's perfect if you want to stick to a neutral, but you prefer something other than the typical white, gray, or beige.
Another great benefit of the versatility of Rice Paddy is that you can use this color for any home style you choose. It can work well in a contemporary setting as well as it can in a shabby chic or farmhouse style. This is great if you enjoy switching up the style of your home every so often. The color is also very easy to paint over.
Mix with Textures
Since Rice Paddy is a light color that can pass as a neutral, mixing it with textures will help create visual interest and make a room more interesting. Plants are an excellent way to add texture and will bring out the green hues in the color. It will help any space feel even more grounded.
Coordinating Colors
Rice Paddy complements well with other neutrals. For a darker neutral try a medium gray like Cornwall Slate (9131). For a lighter neutral, try Restoration Ivory (SW6413). The color also works well with darker greens like Baby Bok Choy (SW 9037).
Mix with Darker Green Accents
Since green accents are trending this year, we recommend highlighting the green hues in Rice Paddy. You can do this through accents in darker shades of green. Along with plants, you can add green chairs, throw pillows, or throws. You can even contrast it against an accent wall in a darker shade. Some excellent shades of darker greens include Shagreen (SW 6422), Saguaro (SW 6419), and Sassy Green SW 6416).
Complementary Colors
If you want to add more colors rather than stick to a neutral theme, try elegant shades of purple. Some great examples are Mythical (SW 6550), Dressy Rose (SW 6024), or Socialite (SW 6025). You can also try a cool blue like Tidewater (SW 6477) to add color.
Book A Color Consultation
Color can turn an ordinary house into an extraordinary home. As professional designers, we can help you determine which shades will work best for your home—inside and out. Contact us to book a color consultation with one of our talented designers today.