Home Staging Trends for 2020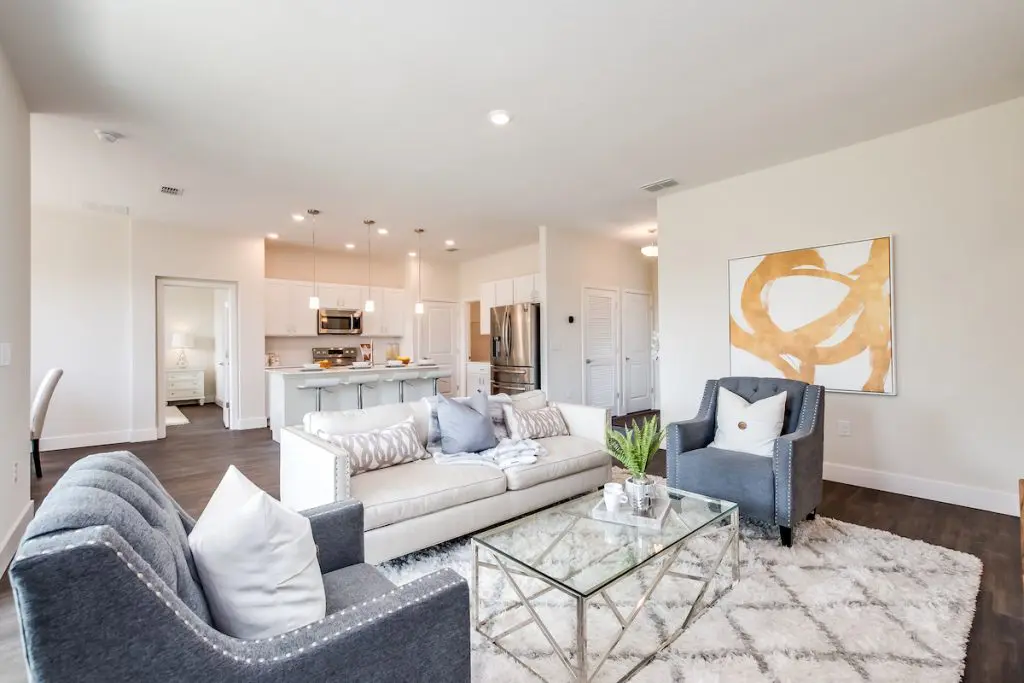 Now that we are in the last quarter of the year, it's fun to reflect back and see which predicted home staging trends for 2020 actually came to pass. We will be reviewing the five trends that the National Association of Realtors predicted for this year. It's interesting to see how many of them have come to pass despite all the curveballs 2020 threw at us.
Simplistic Lifestyle
This trend has definitely come to pass in staging. When it comes to staging, less is more! These days homeowners are prioritizing simple, comfortable living. Many formal living rooms and dining rooms are being transformed into office spaces and sitting rooms.
Clean lines and natural elements were predicted, along with natural fiber rugs and greenery. These are things we have implemented in our staging. There has also been a focus on minimal furniture that makes a home feel larger. However, now that we are spending more time in our homes, it may be even more difficult to declutter.
Balanced Earth Tones
This trend goes hand in hand with the biophilic trend. Most balanced earth tones are also considered neutrals. Since neutral tones have always been a classic principle of home staging, we've seen this trend come to pass.
Neutrals are great for staging since they allow buyers to envision their own furniture and decor in the home. Currently, homeowners are seeking balance and calm in their lives. This has called for earth tones and warm neutrals as opposed to cool tones. Dover White is a great example of a warm neutral that works well for staging.
Unique Lighting
This trend predicted unique lighting like geometric chandeliers, natural cut crystal, recycled glass, along with silver leaf and metals in freeform shapes. Bigger, bolder, attention-grabbing lighting was predicted. We have seen this trend come to pass more in interior design and not as much in staging.
Mixed Metals
Mixed metals like brushed brass, rose gold, silver, and copper were predicted this year. It was expected to be seen in furniture accents, hardware, and kitchen backsplashes. However, since this year was also about finding balance, it was important not to mix too many variations of it. Although we sometimes mix metals, we try to keep the finishes consistent throughout the home to keep the buyer's focus on the home's features.
Conversational Spaces
"Togetherness" didn't come to pass this year as expected. However, conversational spaces have continued to be another staple of great staging design. It's important for us to create spaces that encourage conversation and help drive interaction. We put a lot of thought into creating spacious seating and lounging areas. Seating plays a key role in making a house feel welcoming and inviting. Even if the decor is on point, if the seating is off, the room will feel disconnected.
Furniture should be arranged in a way that facilitates conversation and flow. Pay attention to the spacing of the furniture and don't place furniture flush against the walls. If the furniture is cramped or the placement feels awkward, it can create negative vibes. A buyer's emotions can be heavily impacted by the furniture, so you want to make sure you get it right.
Schedule A Home Staging Consultation
Many of the predicted home staging trends for 2020 are things we have already been implementing into our staging. The most important of these trends in staging are a simplistic lifestyle, balanced earth tones, and conversational spaces. If you implement these trends when staging your home, it can increase the value of your home. If you'd like some help from experts, our professional team would be more than happy to assist. Request a home staging consultation.