6 Living Room Staging Rules for Attracting Buyers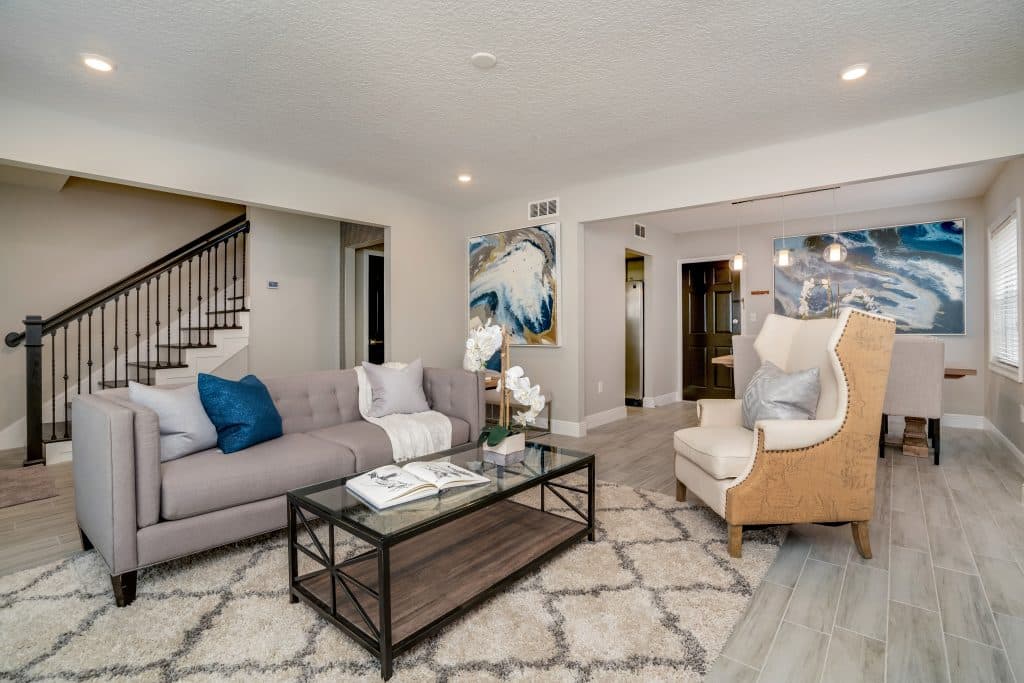 Home buyers want to get a good idea of the potential your home has to offer them. With thoughtful living room staging, you can showcase what buyers can do with this key gathering area. It should feel polished, but comfortable enough for them to see their daily life happening here. By following these six rules, you can be more intentional about the living space you're creating.
Prioritize Layout
The way furniture is arranged has the power to completely change the feeling of a room. It determines the traffic flow, and how just about everything else will fit into your design. It's important to find a balance of making the room feel as spacious as possible, while keeping cozy conversation areas. Our tip is to try and keep the overall amount of furniture on the lesser side, making the room feel more open. You might also be surprised how just shifting the couch or chairs can be huge.
Highlight Focal Points
In your living room, there might be obvious focal points. These could include a fireplace or entertainment center. Whether they're clearly defined or not, you'll want to make sure you're drawing attention to certain areas of the room. It provides you with a guiding point for the rest of your design layout. Ask yourself what it is that you want buyers to notice first when they walk in the room. Maybe you'll have your furniture directed toward the window with a beautiful view. This is your chance to grab their attention in a more powerful way.
Think Neutral, Not Dull
While you want your home to somewhat feel like a clean slate for buyers, you don't want it to be at all boring. Exciting patterns, textures, and pops of color are all wonderful ways to spruce things up and add character to a room. If you want to stick to mostly neutral tones, think about decorative elements that can serve as accent pieces. This keeps the room appealing to a wide range of buyers without feeling plain.
Ditch Personalization
Following the idea of keeping things neutral for buyers, keep in mind the kind of decor you choose. While paying attention to detail is great, you want to make sure you're doing it in the right way. Swap out anything personal, like family photos or a homemade quilt, for more general items. Try generic artwork, houseplants, or decorative bowls and candles to make the room feel complete. You'll want to make it as easy as possible for buyers to envision their own family's life in this house.
Try the Rule of Three
Accessorizing in groups of three is a rule of thumb used by many design experts. This idea comes down to the fact that we enjoy looking at things in odd numbers. Choose items that complement each other in some way, and be mindful of how you place them next to each other. A helpful tip is to think of creating an imaginary triangle when you're arranging them.
Use Wall Decor
Blank walls won't do anything to add to a room's design. The right artwork or mirrors make a room feel well thought out. To choose the best art for your living room, keep in mind color scheme and wall size. Choose pieces that take up the right amount of space, and tie things together. This is perfect for brightening up a living area. While avoiding anything too personal, be sure any artwork you choose is also family-friendly.
Schedule a Home Staging Consultation
Living room staging is a key element in successfully presenting your home to potential buyers. With the rules listed above, you'll have a great starting point for creating a more elevated, welcoming space. If you'd rather leave your staging up to the pros, we'd be more than happy to help. Request a home staging consultation today!