Our Trending Color of the Month: Icicle
At MHM Professional Staging, we love using color to turn an ordinary house into a buyer's dream home. Each month, our designers share a color that inspires their staging designs. This month, our trending color is Icicle (SW 6238), a faint blue color. It's a versatile neutral like last month's color, Greek Villa (SW 7551). As the name suggests, Icicle is a cool-toned color that's both calm and serene.
About the Hue
As a shade of blue, this peaceful color is easy on the eyes. Clarity, pureness, and increased intuition can be associated with this light shade. It embodies tranquility and promotes feelings of honesty and reliability.
How and When to Use Icicle
Icicle has an LRV, or light reflecting value, of 73. This means the color reflects a lot of light. This makes it safe to paint full rooms in this color. It's a wonderful neutral shade to use for staging. It's especially great for brightening up spaces that don't get a lot of natural light.
When using this hue, consider your existing fixed elements. Make sure the color doesn't clash with your flooring or countertops. This color works perfectly with chrome fixtures. Because this color is sensitive to light, observe how the color looks at different times of the day and in different lighting conditions.
In the Living Room
Since Icicle is such a versatile color, it can work for any room. It works particularly well in living rooms since the color's lightness can make the room appear more spacious. Painting the walls this color also gives you more freedom to add splashes of color through the furniture. In the staged room above, the gorgeous purple sofas really pop.
In the Dining Room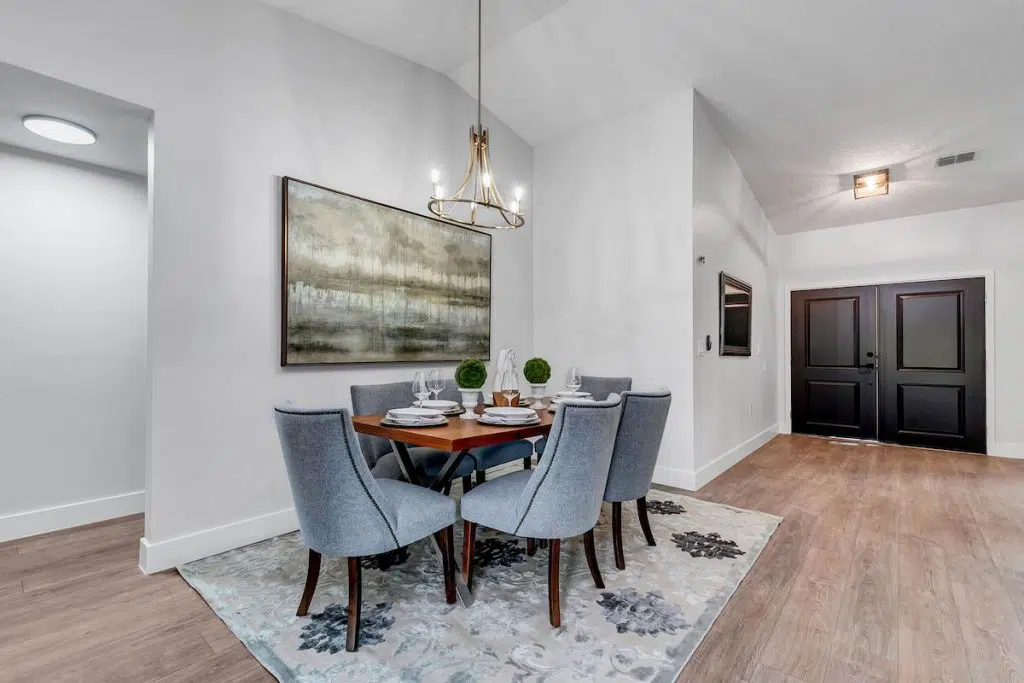 As a shade of blue, Icicle is a sophisticated color perfect for a dining room. To elevate the look even more, pair the color with dark wood accents. Place the dining table over a nice area rug and tie the whole look together with an oversized art piece.
In the Office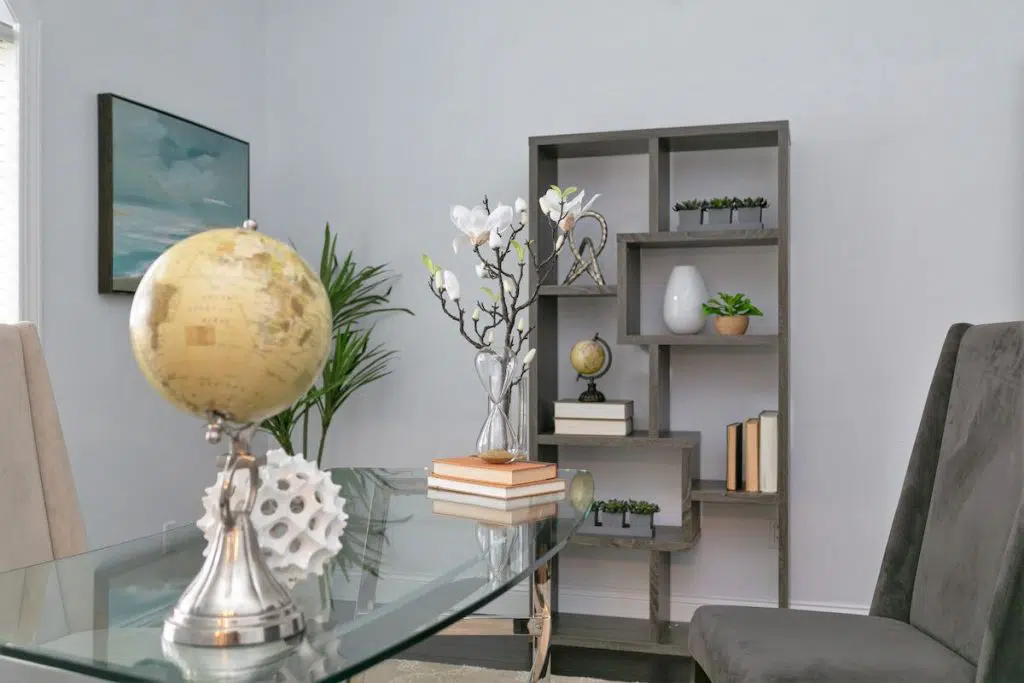 Icicle could be great for an office since it's light and airy. It can help your mind feel calm and clear so you can focus on your work. It's a refreshing color which will make it hard to feel stressed as you work.
Coordinating Colors
Pair with Other Neutrals
The great thing about Icicle is that it's an easy color to match. As a neutral, it pairs well with other neutrals like beige, greige, and white. Maison Blanche (SW 7526) is an excellent beige choice. For a greige, try Windsor Greige (SW 7528). When pairing with white, Icicle looks best with Pure White (SW 7005). Icicle with white trims or moldings creates a refined look.
To add warmth to Icicle, try a warm neutral like Whole Wheat (SW 6120). Contrast icicle with darker colors to add visual interest. Gris Morado (SW 9156) is an excellent choice.
Pair with Other Blues
To add more dimension and depth to a space, pair Icicle with other shades of blue. Krypton (SW 6247) is a darker light blue that pairs well. To contrast with a darker blue, try Waterloo (SW 9141).
Pair with Fall Colors
If you want to create warm, cozy vibes for fall, pair Icicle with warm colors like yellow, rusts, and browns. You can add these colors through pillows, blankets, drapes, and frames. For a nice brown, try Double Latte (SW 9108). Playing up the season will help make your home irresistible to buyers.
Book A Color Consultation
Color can turn an ordinary house into an extraordinary home. As professional designers, we can help you determine which shades will work best for your home—inside and out. Contact us to book a color consultation with one of our talented designers today.