Kitchen Staging Tips and Upgrades to Make Your Home Stand Out
There are a few rooms that make the biggest impact on potential buyers when selling your home. One of those vital rooms is the kitchen. Because the kitchen has a great influence on future buyers' overall impression, it's important to get it right. We're sharing kitchen staging tips and upgrades that will be sure to make your home stand out.
Cleanliness Is Key
Cleanliness is an important factor all throughout your home, but especially in the kitchen. It should shine from being sparkling clean. It's important to showcase the counter space, too. Keep all counters free of clutter. Your fridge should be free of clutter as well. Remove any magnets.
Kitchen Decor Ideas
Fill Up Glass Jars and Canisters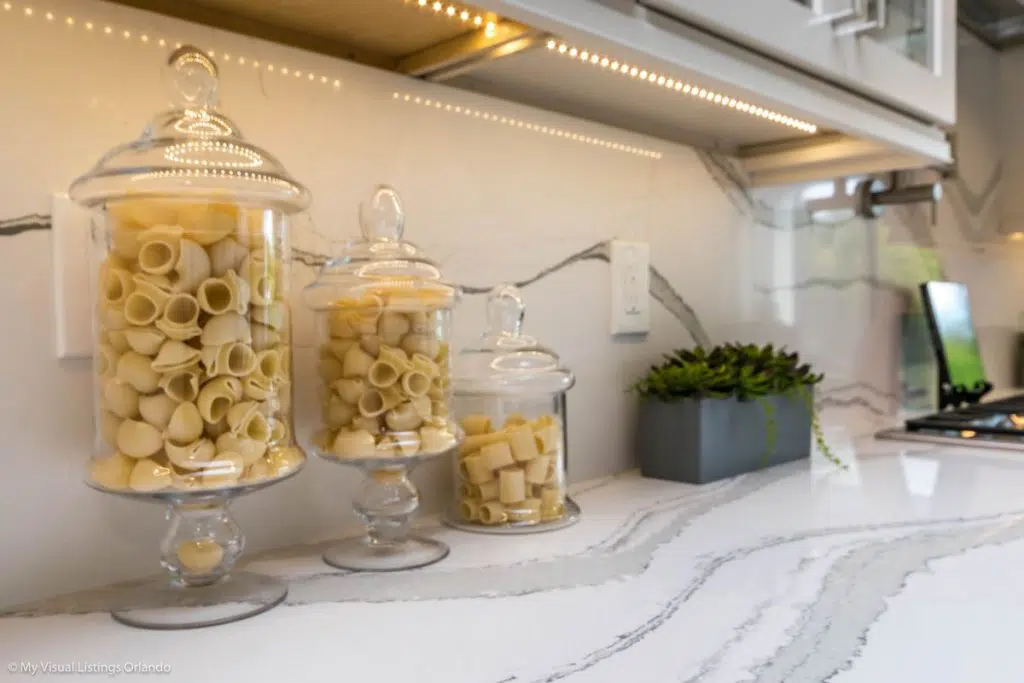 Although you should keep your countertops free of clutter, you can still stage them with a few home decor items to make the home more memorable. One quick and inexpensive way to do this is by filling up glass jars with decorative items depending on the season. For fall and winter, you can fill them up with pinecones. During summer, consider filling glass jars with fruits like lemons or apples. You can also fill up a glass canister with beans as a decor element for any season. Filling up glass containers with pasta is another great option.
Minimally Stage the Cupboards
Use visual cues to make it easy for potential buyers to visualize themselves living in your home. You can do this by minimally staging visible cupboards. Put a few cups, saucers, and bowls inside them.
Stage Everyday Items
Staging a cookbook by the stove will help potential buyers visualize themselves spending time in the kitchen. It can give them the sense that they already live there. Staging a tray with a french press and coffee beans also has the same effect.
Stage with Quality Barstools or Counter Stools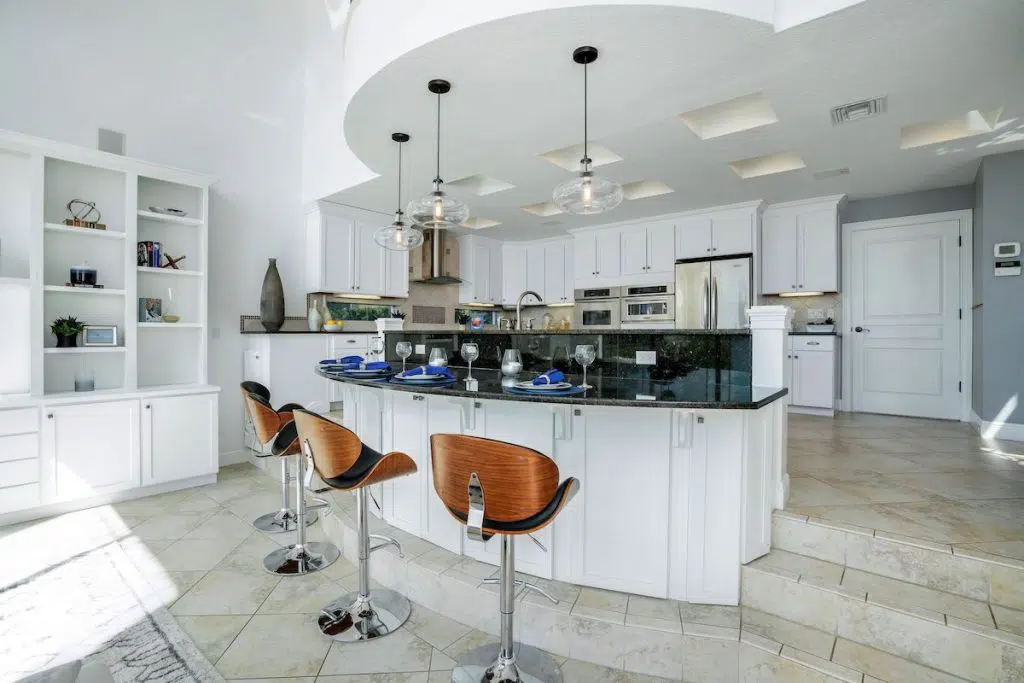 Choosing quality barstools is an easy way to elevate the look of your kitchen. If you have a kitchen bar, it's important to stage it with barstools so potential buyers can visualize sitting there. Keep in mind the height of your countertops. Otherwise, the scale will feel off and won't leave a great impression on the potential buyers.
Upgrade Your Kitchen With a Backsplash
Simple upgrades increase the value of your home. Adding a backsplash is a quick and inexpensive way to add more character to your kitchen. It can make it significantly more appealing to buyers. The following are a few backsplash options that you can't go wrong with.
Subway Tile
Subway tile is classic and timeless. It's an excellent choice since it goes with all kitchen styles. One of the most popular kinds is white subway tiles. However, there are many other options. You can choose a different tile color or choose from different grout variations. Just make sure to keep the style as neutral as possible.
Modern Glass
Modern glass is another stunning option for a kitchen backsplash. It adds glam to a home without being overly showy or feminine. In addition, it comes in different styles and shapes.
Mosaic tile
Mosaic tiles can add excitement and personality to a neutral kitchen. Even if you keep your mosaics neutral, the shapes are enough to elevate the look of your kitchen.
Beadboard
Beadboard is a classic option that's also budget-friendly. It gives off a warm cottage-style feel. Because it is clean and streamlined, it works for many different kitchen designs. The most important thing to consider about this option is sealing. Beadboard is not as durable or heat resistant as other options.
Upgrade Your Light Fixtures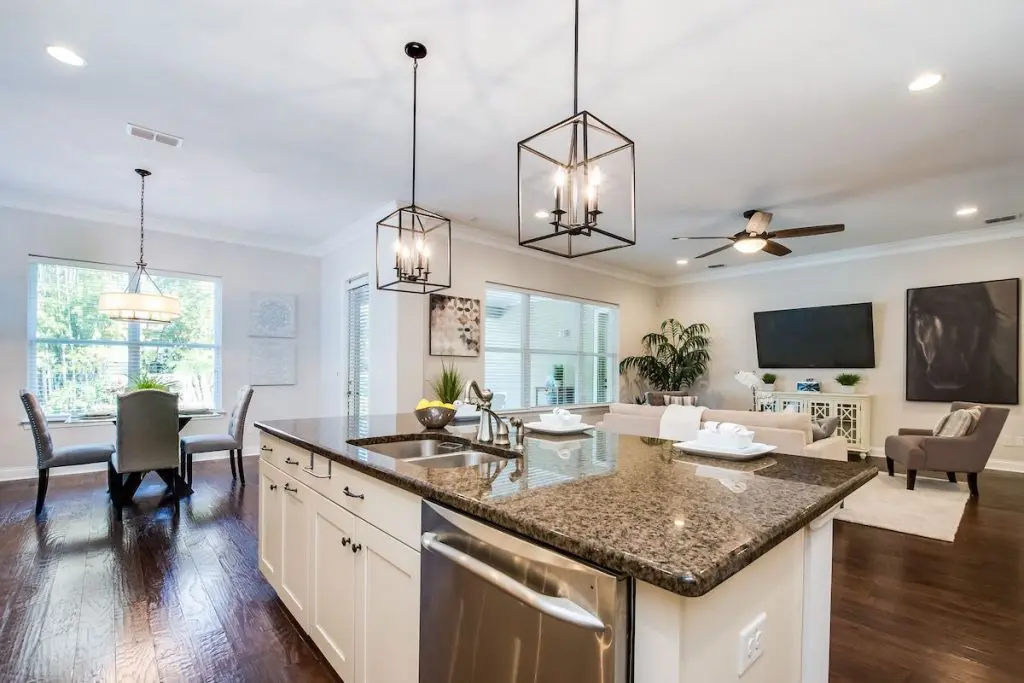 Updated light fixtures are a quick way to give your kitchen a makeover. The right light fixtures can really make your home feel stylish. Modern and contemporary light fixtures are excellent options. You can also go for a more rustic look if you please. The most important thing is to choose styles that are neutral.
For more ways to make your home irresistible to buyers, check out this post.
Schedule A Home Staging Consultation
These kitchen staging tips will help you leave lasting impressions on future buyers. However, If you really want to make sure your home stands out, the best option is to hire professionals. Consider hiring a staging company like MHM Professional Staging. Our team has years of experience helping homeowners sell their homes quickly and for the most money. Request a home staging consultation today!