Our Trending Color of the Month: Green Bay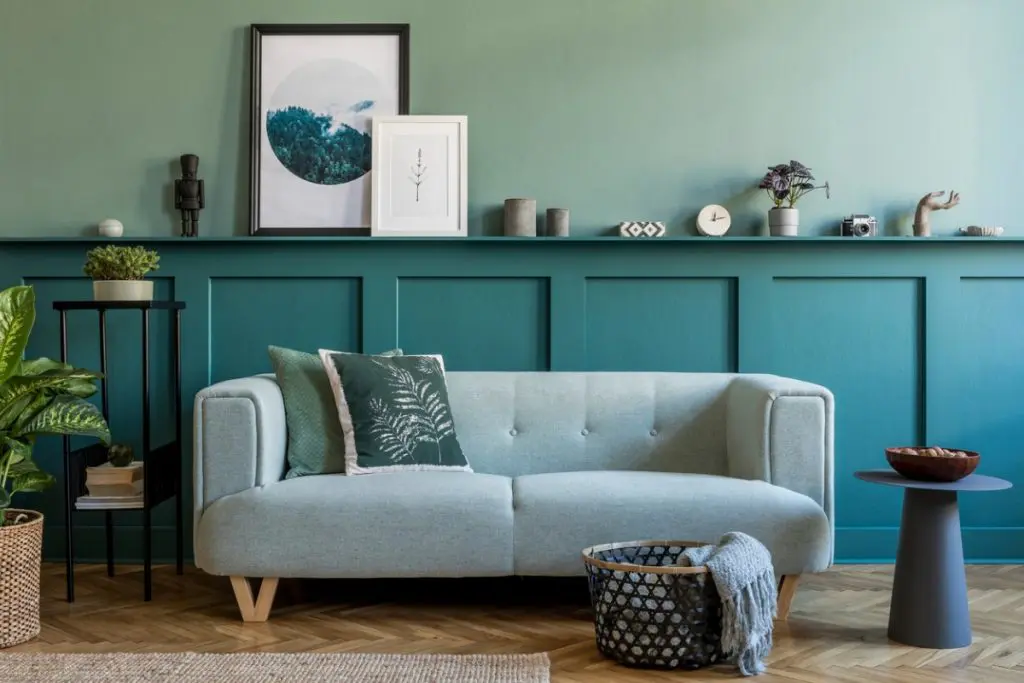 At MHM Professional Staging, we love using color to turn an ordinary house into a buyer's dream home. Each month, our designers share a color that inspires their staging designs. This month, our trending color is Green Bay (SW 6841). Green Bay is a teal color that is more on the green side. It is very similar to Oceanside, our Color of the Month from June of last year. However, Oceanside is more blue-forward. They are both fantastically rich colors to use in your home.
About the Hue
As a teal color, Green Bay is a mix of green and blue. It is a stylish color that is uplifting, optimistic, and unique. It's energetic, yet has a calming influence. Teal is also associated with balance, trustworthiness, and reliability. It has a royal elegance. Green Bay is perfect if you are going for a modern aesthetic.
How and When to Use Green Bay
Green Bay has an LRV, or light reflecting value, of 11. This means the color doesn't reflect much light. Since it doesn't reflect much light, avoid painting a whole room this color. If you're planning to sell your home in the near future, refrain from using this color on the walls since it is such a rich color that doesn't reflect much light. It's better to choose something more neutral that will appeal to a wider audience and also make your home look bigger and brighter.
Use As an Accent
Rather than using Green Bay to paint a whole room, using it to accent a wall is a great option. This works well in a bedroom, creating a great backdrop for a bed. It serves as a captivating anchor and adds drama to the room. It also makes a great backdrop for wooden furniture. You can also incorporate the color into your decor through accent furniture like end tables or chairs. Teal looks stunning as a velvet. Consider a velvet couch in this color for a gorgeous addition to your space.
Tie in Teal Elements to Create a Cohesive Look
Create a magnificent, luxurious look by pairing Green Bay with beautiful, teal, printed throw pillows. Choose throw pillows with tassels for an extra royal look. Another option for fashionable accessories is teal glassware like teal glasses. They can help tie the whole look together. An area rug with teal in it can also elevate your living space.
Add Some Drama to Your Bathroom
Since Green Bay has both calming properties of blue and the natural harmony of green, it's an excellent choice for your bathroom. As a rich color, it will add drama to your bathroom in all the right ways. Tiles in this color look gorgeous in showers or bathtubs. For an extra level of dimension, choose tiles with a glossy finish. It adds another layer of texture for even richer visuals.
Mix with Metals
As a teal color, Green Bay is versatile and works with various types of metal. It cools down the warm tones in brass and warms up the cool tones in silver. Mixing Green Bay with reflective surfaces will heighten the glamour in any room.
Coordinating Colors
Green Bay pops paired with other bold colors like golden yellow and black. Since dark teal complements yellow, Green Bay looks great in yellow lighting. To bring out the elegance of Green Bay, pair it with lighter pastel colors like Gentle Grape (SW 9074) and Glimmer (SW 6476). Pairing the color with neutrals like Gossamer Veil (SW 9165) or Dover White (SW 6385) will have the same effect.
Book a Color Consultation
Color can turn an ordinary house into an extraordinary home. As professional designers, we can help you determine which shades will work best for your home—inside and out. Contact us to book a color consultation with one of our talented designers today.