The 5 Most Important Home Staging Tips for the Living Room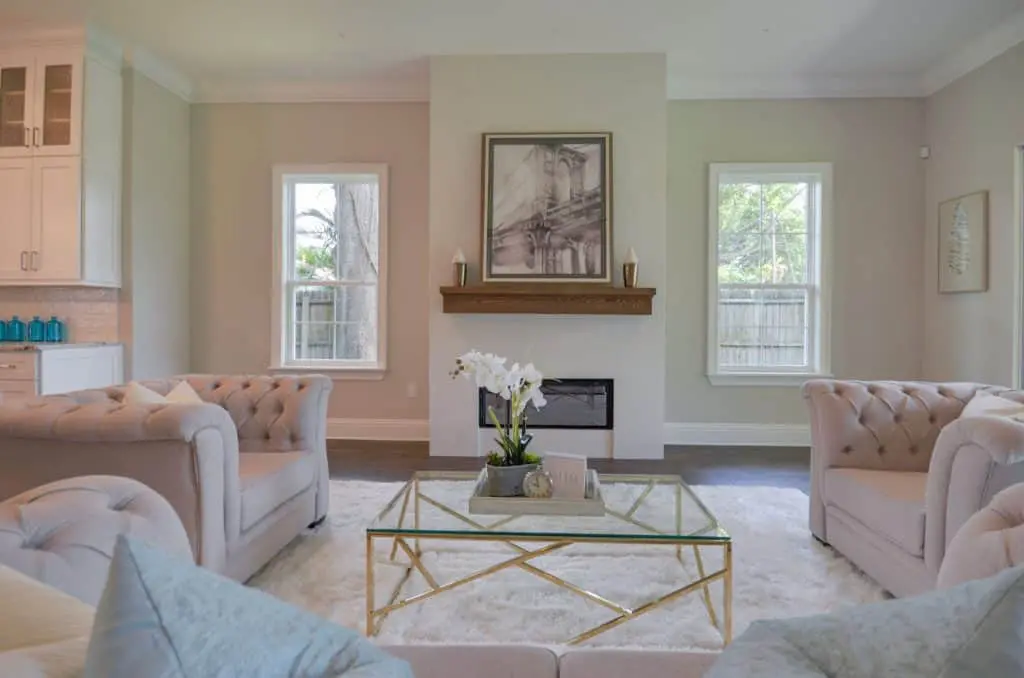 The living room is where most homeowners spend the majority of their time when they're at home. It's where they entertain, unwind, and generally – well, live! That's why it is so important to make buyers feel comfortable and impressed by this space when they tour your home.
It doesn't take a lot of work to make your living room ready for the market. It's all about finding the right balance of color, scale and décor. More often than not, the living rooms we work on just need a little bit of redesign to help home buyers fall in love with them.
Here are our 5 most important home staging tips you can do to transform your living room.
The 5 Most Important Living Room Staging Tips
1) Declutter the shelves and surfaces.
We can't stress enough how important it is to declutter your home, especially the shelves and surfaces. These are the areas that are most in danger for looking cluttered. In a home for sale, we recommend thinning out the décor more than you would for a home you're living in. This is because home buyers can get easily distracted, so keeping the décor light keeps their attention on the home itself. It also helps each space feel larger and more open by having less items around. (For more home tips for your shelves and surfaces, click here to check out Megan's free webinar on the topic.)
2) Neutralize the color palette.
Your entire home should get a neutral makeover to help it appeal to the widest range of buyers possible. In the living room, this is especially important since it is a main area that is high on a list of buyers' priorities. If you have very colorful or patterned furniture, purchase some neutral slipcovers that you can easily remove once you move into your new home. It's okay to leave one piece colorful (such as an armchair) for an accent if it's a subtle solid color such as blue or green. If you have colorful carpet and can't switch it out, put down a nice neutral area rug to offset it. Once the main palette is neutralized, bring in a few pieces of well-chosen, colorful décor to accent it.
3) Make sure the furniture is to scale.
One of the biggest problems we see in homes is furniture that doesn't fit the space. For example: big, bulky furniture in a small room or lightweight pieces in a big, lofty space. This can throw off the balance of the space and make a small room feel cramped or a large space feel cold. Most buyers can't properly judge the size of a space without the right furniture and arrangement, so this issue could be doing a huge disservice to the salability of your home. Analyze your living room and determine if this might be causing a problem in it. If so, we recommend storing that furniture away in a storage unit until you move and renting some pieces that suit the scale of the room better. It's a small investment that will pay off when the room shows as open and comfortable.
4) Create conversation areas and a good traffic flow.
Your living room should have a clear focal point around which the furniture is arranged. This will help the room feel balanced and look more inviting. The focal point could be an architectural feature such as a fireplace, an entertainment center, or a beautiful view. If the space is very large, you can create multiple conversation areas to show the possibilities of the space while also making it feel cozier. Most of all, it's important that the living room have a good traffic flow that is clear to buyers and helps them move through the space in a natural way.
5) Layer in warm, decorative accents.
Beyond just adding a few pops of color, your decorative accents can also make the space feel more like a home. Flowers are always a nice touch that brings some life to a room and makes it more inviting. Add some accent pillows to the sofa, alternating between solids and patterns, and toss a throw over the corner of the sofa or along the ottoman for some extra luxury and comfort. These additions are small but have a subconscious effect on buyers that make them feel more at ease in a space.
For more tips on staging a living room, check out Megan's free Home Staging Webinar: Conversation Seating.