5 Guidelines for Staging the Dining Room
When it comes to selling your home, there are certain rooms that can influence a potential buyer's decision more than others. The dining room is no exception. In fact, homes without a dining room typically take longer to sell. Since it has such an impact on your home's overall appeal, it's important to spend the extra time making sure your dining room is staged well. It's especially crucial in a cooling market. Here we'll be sharing five guidelines for staging the dining room so you can sell your home quickly.
Keep it Neutral
One of the golden rules of staging is to keep things neutral. The goal when staging a home is to appeal to as many people as possible. Neutral colors and furniture styles are ideal. When it comes to painting the walls, darker colors are more acceptable in dining rooms because they create an intimate ambiance. However, the colors should still be relatively neutral. Stay away from anything too bold.
Another way to keep things neutral is by making sure furniture isn't too personalized. We recommend sticking with dining room furniture that is simple, yet modern. Choose silhouettes that are timeless. Parsons chairs are always a great option. Your furniture shouldn't be outdated, and neither should your light fixture.
Be Mindful of Space
It is important to make sure your dining room area feels spacious and inviting. A cluttered dining room will have a negative impact on potential buyers. Remember, you want buyers to be able to picture their families gathered around the dining table.
Even if you have a small dining room space, there are ways to make it appear bigger. Consider a round table for a more intimate space. Another way to make a small dining room appear bigger is to use transparent furniture or decor. You can also hang a mirror to expand the dining room space. If there is a window in the space, hang the mirror on the opposite side of the window so it reflects more light into the room.
Create an Anchor
If your dining room is in an open floor plan, creating an anchor for your dining room is a great idea. You can do this by centering a light fixture above the dining table. Another option is to place an area rug underneath the dining table. Make sure the rug is big enough to fit both the dining table and dining chairs. If the dining table is by an empty wall, consider creating a focal point by hanging a large art piece.
Set the Table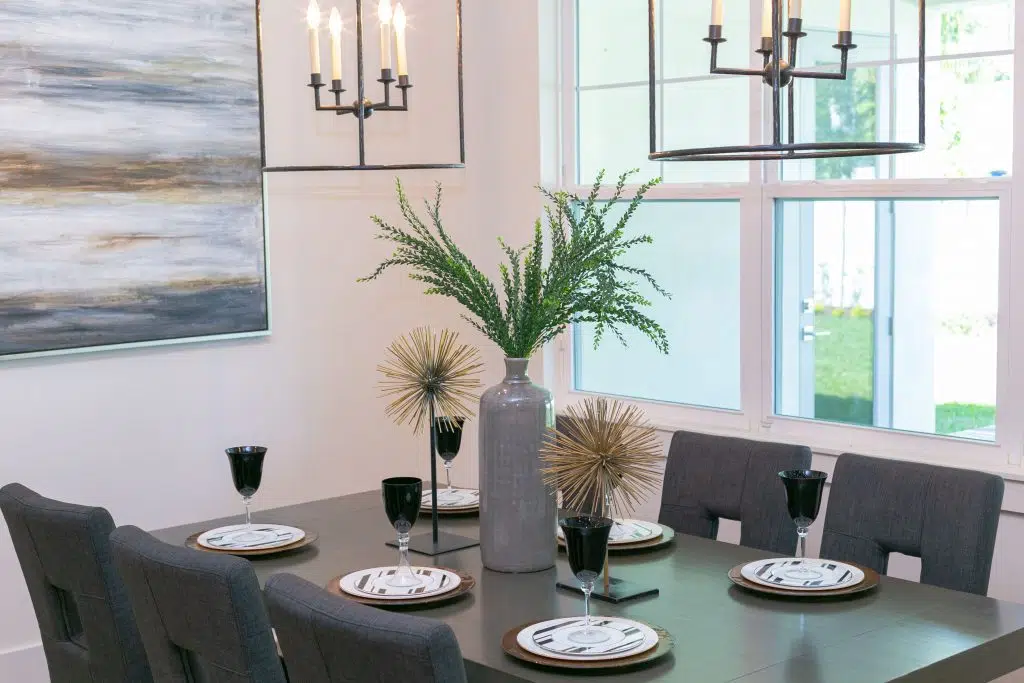 One easy way to help potential buyers visualize themselves living in the home is to set the dining table. Set up as many place settings as there are chairs. The place settings should be a little more elevated than an everyday setting. You can do this by using charger plates, fabric napkins, napkin holders, and wine glasses.
Let the season inspire your table decor and color palette. For instance, to stage your home for fall, opt for warm colors. A table runner along the middle is also a nice touch. Top off the look with some decor in the middle of the dining table. You can place a potted plant or two in the center.
Keep it Immaculate
Before staging your home, we recommend giving it a deep clean. An immaculate dining room with polished floors will leave the best impression. Make sure there are no food stains on the walls and clean the baseboards, too. The light fixture should also be free of any dust.
Schedule a Home Staging Consultation
Staging the dining room well can really leave a lasting impression. Want to make sure you nail it? Consider hiring a home staging company like MHM Professional Staging. Taking the time to get it right can help you sell your home faster and for more money. Request a home staging consultation today!