How to Capture the Style of Rustic Glamour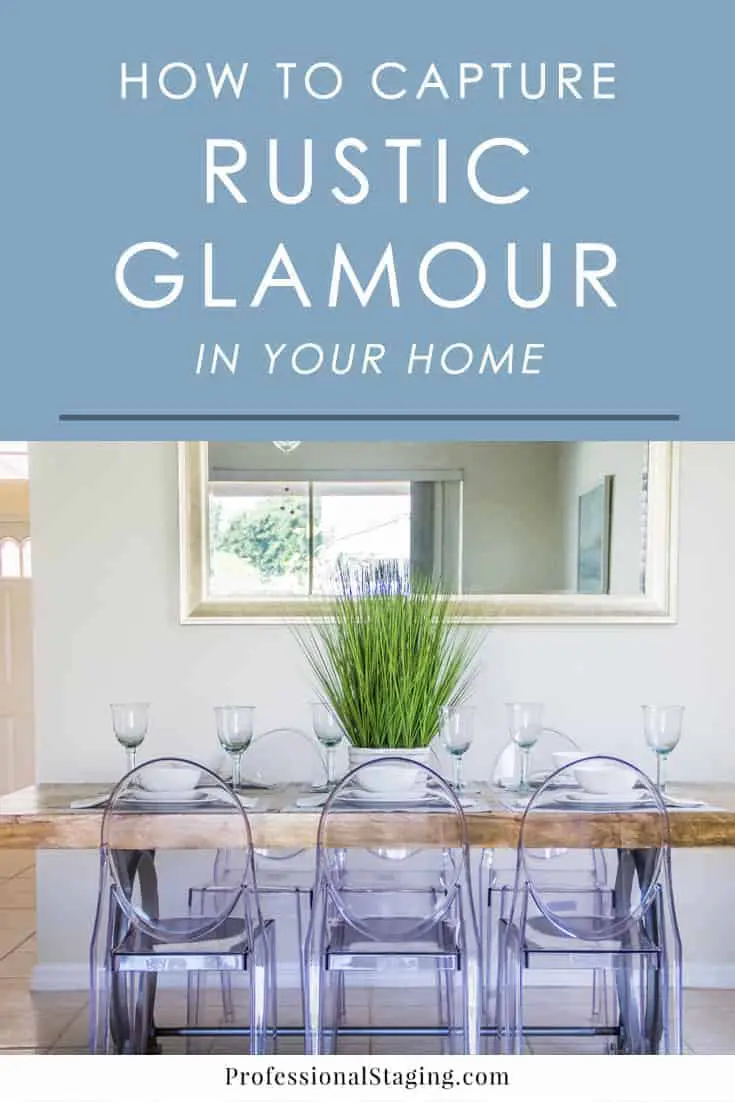 If you look around at decorating trends, farmhouse and glamour are two of the most popular styles today. They both have distinct looks that are timeless and beautiful, but they're at opposite ends of the design spectrum. So, what do you do if you love both styles?
Thankfully, this is a case of opposites attracting. Rustic and glamour can look amazing when put together. It's all about balance. When you strike the right chord, you end up with a look that is as stylish as it is charming.
Here are 5 tips for rustic glamour decorating that will help you capture this style in your own home.
Rustic Glamour Decorating Tips
Mix wood with shine
A must-have staple of rustic décor is wood. It brings warmth and character, especially if it's unfinished or reclaimed. Your wood elements can come in the form of something as large as furniture (such as a dining room table) or as small as some decorative elements (such as candlesticks).
To bring in the glamour, pair wood with something shiny. Metallic accents are perfect for this, such as silver and gold or even mercury glass. Crystals and glass also bring a sheen and sense of glamour to your décor. The contrast of the wood and shine is the embodiment of what rustic glamour is all about.
Layer streamlined elements with unfinished ones
Clean lines will make a space feel more streamlined and sophisticated. Mix them with unfinished elements to get that balance between farmhouse and glamour. For example, pair a live edge wooden coffee table with an elegant white sofa. The room will feel chic yet cozy.
Display heartwarming quotes
One of the most popular elements in rustic or farmhouse style is decor with quotes on it. They can be motivational phrases, one-word reminders like "family" or "home," or even vintage signs. You can find them in a variety of styles. For a rustic glamour look, you can let the sign serve as a strictly rustic or glamorous element, such as a vintage-looking wood sign or a glamorous marquee sign, or you can mix the two such as a wooden sign with a phrase written in an elegant script.
Bring in luxurious textures
Rustic glamour should always have a sense of coziness to it. Luxurious textures such as faux fur will bring both comfort and an element of glamour to the space. Examples are a faux sheepskin draped over an ottoman, a faux fur throw over an armchair, or a faux fur pillow on a sofa.
Mix DIY with designer
For the perfect mix of rustic and glamour, combine do-it-yourself décor with designer elements. (And just because it looks designer doesn't necessarily mean it has to be expensive.) You don't want it to look too upscale, but you don't want it to look entirely DIY, either. For the best results, strike a balance between them. Think of a do-it-yourself wooden sign with "home sweet home" painted on it hanging over a stunning chesterfield sofa. That's rustic glamour at its finest.
Click here for more tips on how to add glamour to your décor! >>