11 Celebrity Living Rooms to Inspire Your Own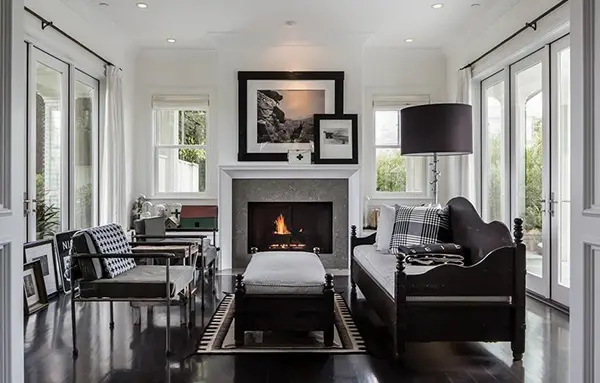 The living room is one of the most important rooms in a home because it's where you gather with family and friends and unwind after a long day. Looking for some inspiration for yours? There is no shortage of great design inside the homes of stylish celebrities.
We've rounded up eleven of our favorite celebrity living rooms that feature a variety of styles and color schemes to give you a beautiful selection of ideas and inspiration.
Inspiring Celebrity Living Rooms
George Clooney's vacation home in Mexico features a transitional-style living room that opens up onto the spectacular pool area. A warm neutral palette helps it blend with the natural view for a seamless transition from indoor to outdoor.
Cindy Crawford and Rande Gerber's vacation home in Mexico also features a spectacular view but they opted for a crisp off-white as the main color with pops of orange and red as the accents for a cool, luxurious vibe.
Diane Keaton's living room embraces the chic, classic look of black and white. The daybed was a nice touch to bring an eclectic appeal to the otherwise modern space.
Brooke Shields' living room is a beautiful family-friendly space that is both elegant and cozy. The portraits of her daughters bring a personalized touch to the space.
Felicity Huffman and William H. Macy curated a lovely living space of cool greys and blues that makes it relaxing, elegant, and timeless.
Alex Rodriguez embraced the hip, artsy vibe of Miami in his Coral Gables living room with bold pops of blue and red on a white backdrop.
Claudia Schiffer brought the sweet, elegant style of her English Tudor mansion to life through every space in the home, including the cozy living room.
Jennifer Aniston's living room has a swanky, modern appeal that you can just imagine her entertaining her fellow A-list friends in.
John Legend and Chrissy Teigen's living room is an eclectic space full of rich textures and patterns such as wood and leather. It beautifully balances masculine and feminine design for a unique space.
Gisele Bundchen and Tom Brady call this elegant living room home. The symmetry of it along with the impressive sofas and eye-catching chandelier make it dramatic yet elegant.
Calvin Klein went with a monochromatic color scheme in his Miami Beach house for a cool, crisp vibe that is chic and relaxing.