Our Trending Color of the Month: Soft Apricot
At MHM Professional Staging, we love using color to turn an ordinary house into a buyer's dream home. Each month, our designers share a color that inspires their staging designs. This month, our trending color is Soft Apricot (SW 6352), a soft blend of yellow and orange. It's a delightful color that brings an energizing calm into any space. It is a contrast to last month's Color of the Month, Practical Beige, a more understated color.
About the Hue
Soft Apricot is a warm color that can evoke feelings of joy with its orange undertones. It's an optimistic color that feels youthful. It works really well with natural, organic textures. Since it's a bright and cheerful hue, it's a great summer color. Check out more summer staging tips here. Depending on how Soft Apricot is styled it can appear warm and romantic or modern and edgy.
How and When to Use Soft Apricot
Soft Apricot has an LRV, or light reflecting value, of 50. This means the color absorbs the same amount of light as it reflects. Since this color is brighter than most neutrals, we don't recommend painting full rooms this color when staging. It's a polarizing color that errs on the feminine side. Staging colors should be as gender-neutral as possible since the goal of staging is to appeal to a wider market. If you want to use this color, use it as an accent with pillows, throws, or rugs instead.
Create a Casual, Boho Vibe
A splash of Soft Apricot works perfectly for a casual, boho vibe. To create this look, pair the color with organic textures like light-colored woods or macrame wall hangings. Add pieces with rustic finishes.
In Bedrooms and Nurseries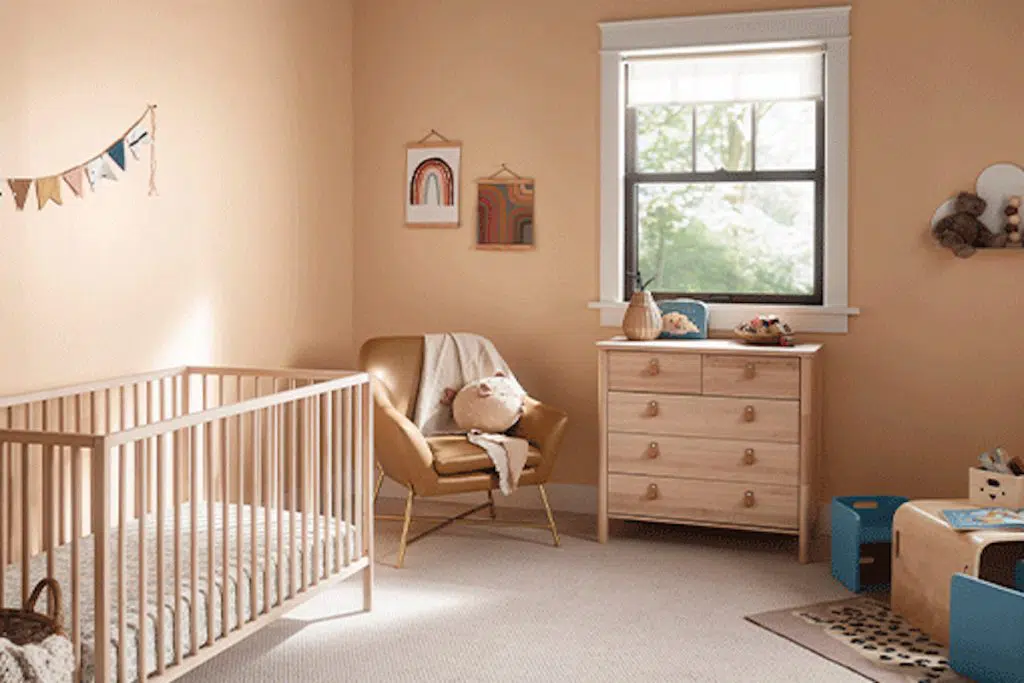 Soft Apricot is an excellent choice for bedrooms and nurseries. The delicate warmth of the color makes a space feel sweet and cozy. It's a more interesting color choice for a nursery than sticking with standard blues or pinks.
In the Bathroom
There's no better place for a soft energizing color like Soft Apricot than in a bathroom. Pair with white cabinetry to keep things fresh and bright. Don't forget to finish off the bathroom with some plants to make the space feel grounded.
With Architectural Elements
Want to add an extra layer of sophistication to Soft Apricot, use the color in rooms with architectural elements like crown moldings. The color would also look fabulous paired with board and batten. You could also mimic architectural elements by painting a wall and stopping three quarters from the top.
Coordinating Colors
Pair with Neutrals
Soft Apricot works well with neutrals like ivories, whites, and grays. Zurich White (SW 7626) pairs wonderfully with Soft Apricot. For a great ivory, try Intricate Ivory (SW 6350). For the best gray options try Colonnade Gray (SW 7641) or Storm Cloud (SW 6249), a bluish-gray.
Pair with Other Soft Colors
To maximize a cozy look, pair Soft Apricot with other soft colors like light blues and greens. For green, try Softened Green (SW 6177). For a soft blue, try Kyrpton (SW 6247).
Layer with Complementary Colors
Soft Apricot looks fabulous layered with other complementary tones like coral, peach, warm yellows, and pinks. Some great peach options are Sumptuous Peach (SW 6345) and Warming Peach (SW 6338). You can also try a lighter apricot like Sociable (SW 6359) or Harvester (SW 6373) which has more yellow tones.
Book A Color Consultation
Color can turn an ordinary house into an extraordinary home. As professional designers, we can help you determine which shades will work best for your home—inside and out. Contact us to book a color consultation with one of our talented designers today.