Our Trending Color of the Month: Jovial
At MHM Professional Staging, we love using color to turn an ordinary house into a buyer's dream home. Each month, our designers share a color that inspires their staging designs. This month, our trending color is Jovial (SW 6611), a bold coral. This bright, happy option is a great color for the spring season. Last month's Color of the Month, Lighter Mint, is also a great pick for spring for a look that's more subtle.
About the Hue
Jovial makes a statement of warmth and welcoming with its elements of both red and orange. Much like its name, it's a color that will bring any room to life with an overwhelming sense of joy and positivity. Guests are sure to feel the good energy this shade gives off.
How and When to Use Jovial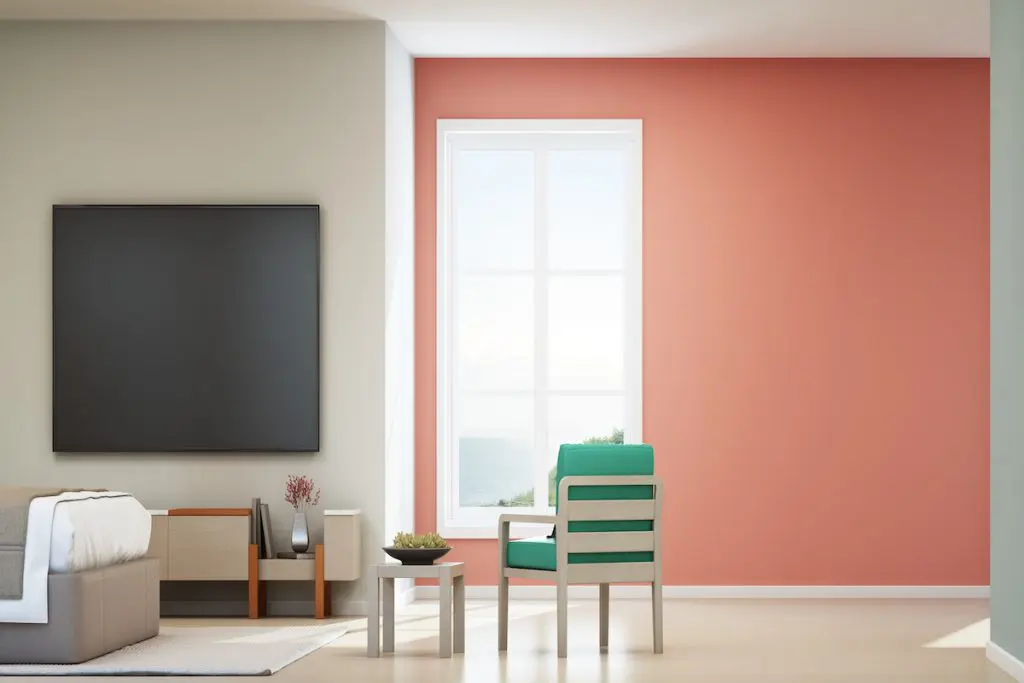 With an LRV, or light reflecting value, of 56, Jovial reflects a moderate amount of light. With that being said, it is safe to paint full rooms this color, but it is not always an ideal choice for staging. Our advice is to stick to soft, more subdued hues. However, Jovial is a great accent color option.
In the Foyer
Your foyer or main entryway into the house will be a guest's first look at the inside of your home, and it's a great place to add a pop of color. The optimism that radiates from the color Jovial is wonderful for keeping this part of the home bright and inviting. This kind of statement will make a lasting first impression.
In the Bedroom
Kids' rooms and nurseries should be a light and fun space, and this color is a great pick for those playful vibes. On the other hand, Jovial can be used to make an adult bedroom feel more elegant. When paired with more neutral bedding and decor, this shade is perfect for a more mature setting.
As a Feature Wall
Having an accent wall is one way to make a room even more exciting, and Jovial is an excellent option for this kind of design choice. With this touch of color, your room will instantly feel more dynamic and energetic. This is also a great way to experiment with the color without committing to a fully coral room.
With Patterns
Something to consider when deciding on a color is what kind of decor the room will include. This color in particular is great with patterned pillows or rugs, and this combination is a delightful way to add texture and make a room come alive.
Coordinating Colors
Monochromatic Color Scheme
An easy way to make Jovial pop even more is to use similar colors around it, either lighter or darker. Look for lighter colors like Faint Coral (SW 6329) or Coral Island (SW 6332). For darker options, go with a shade like Quite Coral (SW 6614).
Pair with Neutrals
Feel like you just want a subtle splash of color? It's hard to go wrong when pairing a bold color with more neutral shades, like Extra White (SW 7006) or Pavestone (SW 7642). This can give a room a very clean and sophisticated feel, especially for staging purposes.
Contrast with Green
If you're going for a bold look, pair Jovial with emerald green. If you're looking for a color combination that's a little more adventurous but still complementary, light greens will pair well with the bold coral. In this case, we recommend colors like Ancient Marble (SW 6162) or Svelte Sage (SW 6164) to really take your room to the next level.
Book a Color Consultation
Color can turn an ordinary house into an extraordinary home. As professional designers, we can help you determine which shades will work best for your home—inside and out. Contact us to book a color consultation with one of our talented designers today.