Home Staging Webinar: Conversational Seating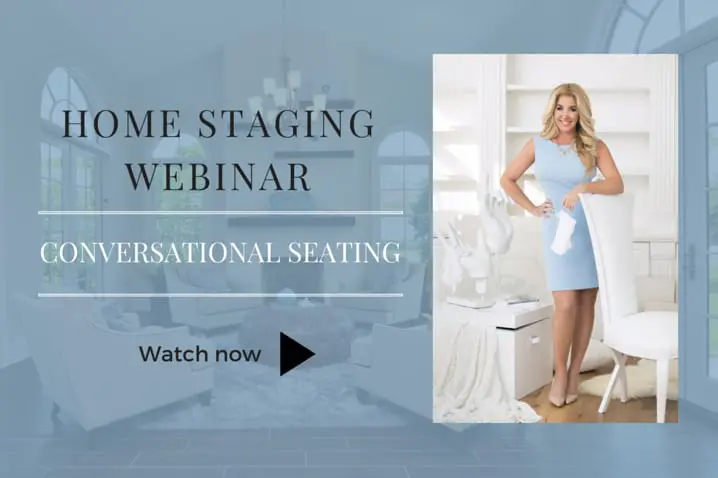 In this week's episode of Megan's Home Staging Webinar, she is talking about one of the most important parts of designing a beautiful and functional living room: furniture arrangement.
The wrong arrangement will instantly make a living room feel uncomfortable and unwelcoming. It doesn't matter how beautiful the décor may be, if the seating arrangement feels "off," the whole room will feel disconnected. The key to this is to focus on conversational seating that will help the room make sense. By arranging the furniture in a way that facilitates conversation and flow, you will make the whole space feel more inviting.
This is especially important when selling a home. How buyers feel about a home is directly impacted by the furniture or lack thereof in each space. If things feel awkward or cramped, they will get negative vibes from the home. You want the space to feel warm and inviting the moment they walk in. It all comes down to some crucial tricks that will help you create the perfect conversational seating for your living room.
In the video, Megan talks about:
How much space should be between the sofas, chairs, and tables
How to arrange conversational seating in large and small rooms
What mistakes she sees over and over again that throw off the balance of a room
The do's and don't's of creating conversational seating that works
And more simple staging tips that will breathe new life into your living room
Besides the way you lay out the furniture in the space, other factors can contribute a lot to how inviting it the conversational seating feels. Certain accent pieces, such as ottomans, can help fill in gaps and create extra seating without taking up too much visual space. You also want to pay a lot of mind to the size, scale, and height of your furniture, all of which can throw off the balance of a space. Megan even offers some great tips on how to use color and other decorative elements to give the room interest, help with the flow, and define the space more.
If you love to entertain, Megan's has some tips in this video will also help you create a space that is more conducive to entertaining. And if you're selling your home, her home staging tips will put you on the right path towards deciding what to get rid of and what to change while it's on the market to make the best possible impression on buyers.
To learn how the best way to give your home a fresh, brand new look, watch Megan's latest episode of her Home Staging Webinar: Conversational Seating.