What to Keep In Mind When Staging with Wallpaper
Most people think it's smart to stay away from wallpaper when staging their home, but when used the right way it can really elevate your space. At MHM Professional Staging, wallpaper is a design element we are currently loving. When staging with wallpaper is done right, it can be an elegant, timeless way to add texture and interest to a room. Here are some important tips to remember when choosing the right wallpaper for your home.
Keep it Neutral
When staging a home, it's important to keep things neutral especially when it comes to wallpaper. Make sure colors and imagery are neutral. You can use floral imagery as long as the colors are neutral. By keeping the colors neutral, it's easier to make sure the furniture and decor match. Neutral wallpaper is flexible and gives you the opportunity to add bold accents in a purposeful way.
Keep it Timeless
Choose wallpapers with timeless designs. Opt for subtle patterns as opposed to busy and colorful patterns. Try to stay away from wallpaper that has more than two to three colors. The lower the contrast between the colors the more neutral and versatile the wallpaper. To attract potential buyers, you want your home to feel fresh and contemporary. Therefore, avoid any wallpaper that is outdated. You don't want to make potential buyers feel like they traveled through a time machine.
Don't Overdo It
Although wallpaper is an excellent way to add visual interest and depth to your home, it's important to not overdo it. Avoid covering all the walls with wallpaper. Too much wallpaper will be distracting to potential buyers. Stick to accent walls and select rooms.
Make Rooms Memorable
Adding the right wallpaper can really help set the right tone in each room, making your home more memorable. The right wallpaper in bathrooms and powder rooms can add sophistication and give an upgraded look. Using muted neutrals can warm up cool bathrooms. Consider using wallpaper that is splashproof and designed for areas with high humidity.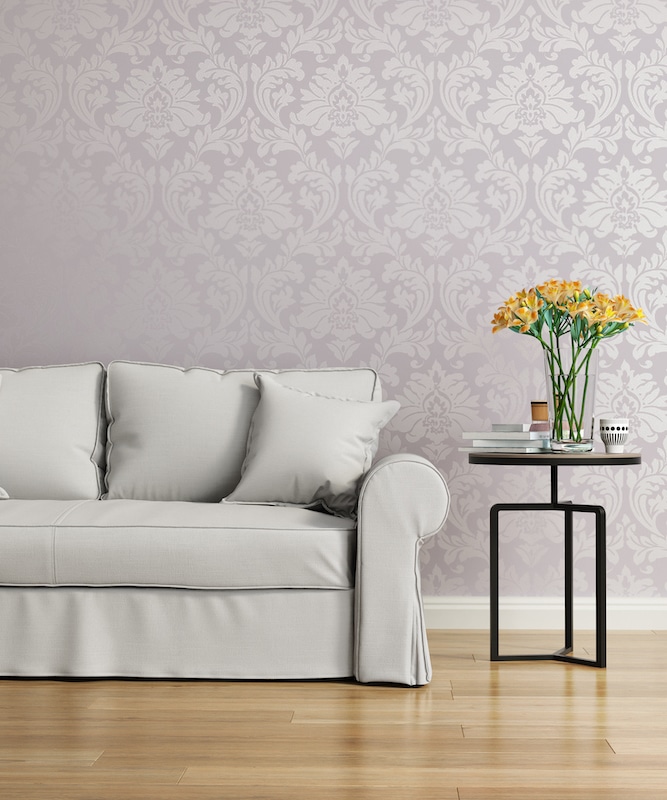 In the living room, be sure to use wallpaper that makes the space feel warm and welcoming. Anything too vibrant will be off-putting. Stick to something classy yet understated to add a touch of personality. Rather than covering the whole living room in wallpaper, create a focal point by using wallpaper for the wall behind the main sofa.
In the bedroom, consider choosing wallpaper that makes the space feel calming and blissful. Wallpaper in the bedroom works well as an accent wall behind your bed. It's a great way to create a focal point in your bedroom. You can use wallpaper for a staged nursery as well. Just be sure to use patterns and colors that are gender-neutral.
If you plan to use wallpaper for your kitchen, pay attention to the material you choose. Thin, older wallpapers will easily absorb stains and odors. Therefore, stay away from fabric-based wallpapers. There are many options for wallpaper that are easy to clean. Some wallpaper materials ideal for the kitchen include vinyl, Novamura, and washable wallpapers. Make sure your selected wallpaper complements your cabinetry, countertops, and hardware colors well.
For more kitchen staging tips, check out this post.
Schedule A Home Staging Consultation
Staging with wallpaper can feel intimidating. However, it can be used to your advantage by making your home stand out against the competition. It's the details that really take your home to the next level and make it memorable. Choosing the right wallpaper can be tricky, but you don't have to do it alone. Consider hiring a professional staging company like MHM Professional Staging and leave it up to the experts. Request a home staging consultation today!