Why Virtual Staging Is Worth the Investment
Selling a home is about more than just selling the house itself. It's about selling a lifestyle. Buyers must be able to visualize themselves living in the home. Staged homes make it easy for potential buyers to do this. That's why staging homes is so effective. Although nothing beats walking into a staged home, virtual staging can help you achieve the same effect. There are many reasons why virtual staging is well worth the investment, especially during this current time of social distancing.
Selling a Fantasy
Industry experts have referred to staging as selling a fantasy. It's packaging your home in a way that will attract the widest variety of buyers. The goal is to create "wow" experiences and lasting impressions. It's about filling the home with ambiance and creating moods. Staging helps you position your home in the best possible light. It helps you bring out the best qualities of your home while minimizing its faults. Most buyers want a property that is move-in ready, and staging positions a home this way. A home that had been sitting on the market for several months can sell within a week with the right staging.
Don't believe us? Check out what our clients have to say »
What Makes Virtual Staging Worth It
The greatest benefit of a staged home is that it will sell for more money in a hot market and sell faster in a down market. Traditional home staging may not be your first choice during the current pandemic, but thanks to technology, virtual staging is a great backup option. Virtual staging offers some of the same benefits of regular staging along with its own unique benefits.
Sell Your Home Faster
According to a study from Coldwell Banker, in a stable market, unstaged homes sell in an average of 30-42 days. On the contrary, staged homes will sell within an average of 7.6 days.
Sell Your Home for More Money
Not only do staged homes sell faster, but they also sell for more money. On average, staged homes sell between 3-50% over list price while unstaged homes sell only an average of 1.6% over list price. In a down market, that's all the more reason to position your home in a way that stands out.
It's Convenient
Unlike traditional home staging, virtual staging doesn't require you to move any furniture around. In addition, most virtual staging albums can be completed within a week of receiving photos of your home.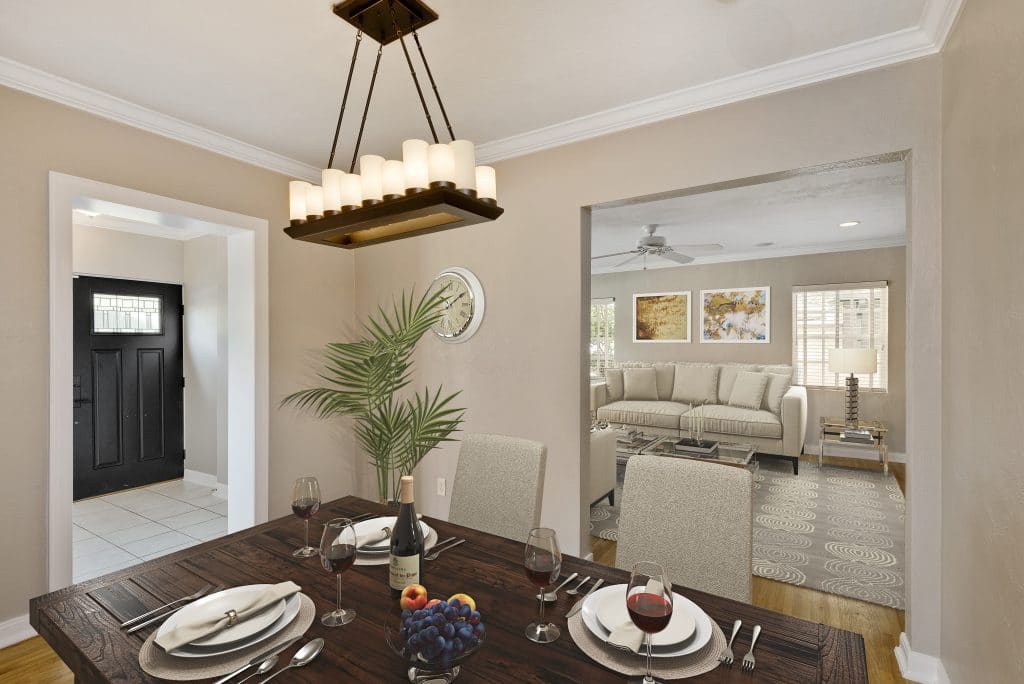 It Offers Customization and Flexibility
Virtual staging offers some great options to customize your home without much effort. It's not only limited to adding in digital furniture and accessories. You also have the option of easily changing paint colors, adding digital window treatments, and more!
No Geographical Limitations
Virtual staging can produce incredible results. Perhaps the biggest benefit is that there are no geographical limitations. No matter where in the world you are, our team of staging experts can produce standout images of your home.
It's Affordable
Virtual staging is cost-effective. Prices begin at just $50 per image. MHM Professional Staging also offers professional photography packages to enhance your virtual staging images.
How Virtual Staging Works
At MHM Professional staging, virtually staging your home is a simple process. First, you schedule a consultation. Then, you book a professional photoshoot of your home. Finally, we create and deliver your virtual staging album. You can choose from small packages that come with about 25 photos or large packages with unlimited photos.
Schedule a Virtual Consultation
Your home is one of your largest assets. Why not maximize the amount of money you can make from it? Virtual staging can help you accomplish this. It's a surefire way to stand out from the competition by making your home more impressive and memorable online. If you're still not convinced that virtual staging is worth the investment, check out what our clients say. 
Are you ready to make potential buyers feel like your home is where they belong? Request a virtual home staging consultation today!