Our Trending Color of the Month: Tupelo Tree
At MHM Professional Staging, we love using color to turn an ordinary house into a buyer's dream home. Each month, our designers share a color that inspires their designs. This month, our trending color is Tupelo Tree (SW 6417). Tupelo Tree is a versatile color that can be made to look 70s chic or totally modern. It all depends on how you use it!
About the Hue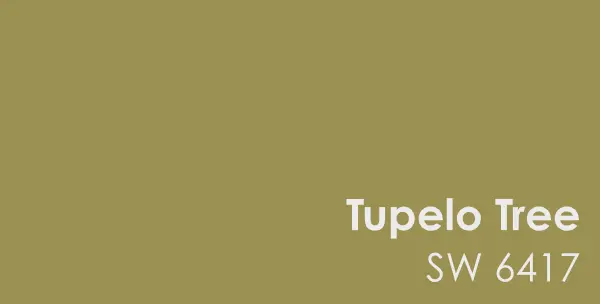 According to color psychology, green calms us. It reminds us of nature. An earthy green like Tupelo Tree has warm undertones that impart a sense of comfort and ease. This makes Tupelo Tree an excellent choice for your decor whether you are staging your home or just looking to update your current color palette.
Tupelo Tree is an avocado green that's as rich and creamy as the stone fruit itself. Tupelo Tree has a strong yellow cast that evokes the trendy, avocado green kitchens of the 1970s.
"Avocado greens are coming back into style."
– Megan Morris, Founder of MHM Professional Staging
Avocado greens were all the rage in the 70s. Now they are making a comeback—along with other earth tones and muted colors. Tupelo Tree, in particular, is a great compliment to the current hipster aesthetic. White walls, natural wood, and greens of all shades are very "in" right now.
How and When to Use an Avocado Green

As an Accent Color
When staging a home, we love to feature a color like Tupelo Tree in accent pieces. We can do this by placing potted plants strategically throughout the house. Succulents have a beautiful range of colors and often come in soothing shades of avocado green. We also like to incorporate avocado greens in furniture and throw pillows. It is especially nice on soft furnishings, where it invites you to sit down and relax.
On the Walls
You can paint your walls in a hue like Tupelo Tree, but we recommend using it sparingly. Avocado greens have a tendency to look dated when used all over. Tupelo Tree works well as an accent wall or painted in a small powder room. We absolutely love the look of an avocado green backsplash.
On Your Front Door
Green doors are friendly and welcoming. A front door in Tupelo Tree will put your guests at ease as they step over the threshold and into your home. When using avocado green on your front door, be sure to keep the main house color neutral. Otherwise, you risk getting a "fun house" effect with too many competing colors.
Coordinating Colors
As we mentioned earlier, Tupelo Tree is a versatile color that can inspire sentimentalism for the 70s or make a home look modern and hip. The coordinating colors you choose can make all the difference.
Tone It Down with Neutrals
Many greens are considered neutrals. Tupelo Tree is one of those greens. It goes well with other warm neutrals, such as beige and ivory. Sherwin-Williams recommends complementing Tupelo Tree with Restoration Ivory (SW 6413) or Rice Paddy (SW 6414).
Make It Modern
Unless you're aiming for a vintage look, avoid the retro combinations of avocado green with burnt orange or harvest gold. It may have been popular in the 70s, but today it can make a home look outdated. Decor choices that borrow from another era can scare buyers into thinking that a house needs work. Modern aesthetics, on the other hand, make a house appear turnkey.
Stick with clean, fresh color combinations when staging your home. Easy ways to modernize avocado green include pairing it with a bright white, cool gray, or other muted earth tones.
Go Bold
If you're feeling bold, consider pairing Tupelo Tree with a deep blue hue like Endless Sea (SW 9150). We don't recommend this color combination for a house that's for sale. However, it is a bold and daring choice to liven up your forever home!
Book a Color Consultation
Color can turn an ordinary house into an extraordinary home. As professional designers, we can help you determine which shades will work best for your home—inside and out. Color consultations are quick, easy, and budget friendly! Contact us to book a color consultation with one of our talented designers today.