Home Staging Webinar: Tablescapes & Place Settings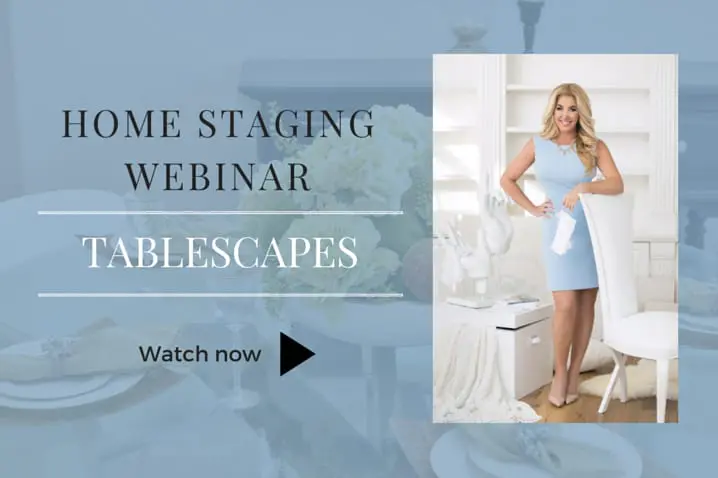 This week in Megan's Home Staging Webinar, she is focusing on one of the most special areas of the home: the dining room. It's where we gather with our family and friends, especially over the holidays and special occasions, and the table is the center of all the action.
When staging a home, we always make sure the dining room table is fully set. If you've ever toured a model home, you'll notice that they always have the table decked out, ready for a party. It brings warmth to the space and helps people imagine gathering there with their loved ones. You want people to envision the many holidays they will be spending there and the memories they will be making. But it's not enough to set out a few plates and some stemware. Taking it to the next step with a little creativity will really set the stage.
Creating a beautiful tablescape is much easier than it looks. It all comes down to some simple tricks and ideas that can be personalized for each home, style, and even for the seasons. In this video, Megan will show you:
Table setting ideas that are versatile for every style and season
Napkin folding ideas to give your table settings some flair, including a DIY tutorial of Megan's favorite napkin fold
And how to incorporate seasonal elements into your tablescape
Tablescapes and Place Settings

The first step to creating a great tablescape is to have the right base. You don't have to wait until special occasions to take out the good china, nor do you have to spend a fortune on lots of different styles of tableware. Having one good set of plates, silverware, and stemware is all you need. You can spice up your tableware with decorative elements that can be switched out for different occasions. In the video, Megan offers some of her favorite ideas for accenting your tableware with simple decor.
Some of the best table setting ideas are achieved with napkin folding. The possibilities are truly endless. Once you have the napkins, you can create a variety of different shapes from them to give your table a new look every time you use it. In the video, Megan shows several examples of her favorite napkin folds, as well as a full DIY napkin folding tutorial of the easiest and most versatile look that she uses time and time again.
To spice up this napkin fold, she also offers a myriad of ideas on where to find DIY elements for little to no cost. These decorative accents will help you create countless looks that will always thrill your guests and suit the occasion perfectly.
Some more helpful things you'll find in the video are:
Napkin folding tips that will help your napkin folds look professional
Basic table setting rules to follow, such as the proper layout form
And holiday decorating tips for each season, including specific ideas for accents, colors, patterns, and more
Click here to watch this installment of Megan's Home Staging Webinar, Tablescapes and Table Settings.
← Previous Home Staging Webinar: Colors & How to Use Them Properly