How to Make a Room with High Ceilings Feel Cozy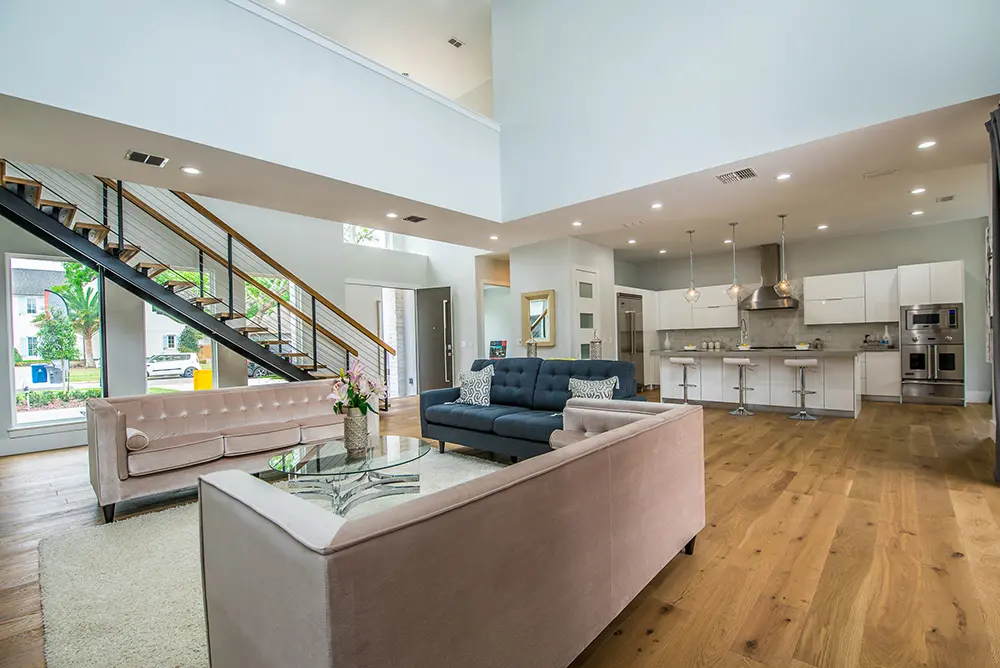 High ceilings are often sought-after by home buyers because of how large they make a space feel. However, while it's wonderful for a space to feel so open, it's nice to have a balance of coziness, too. It can seem downright impossible to achieve in a room with high ceilings, but it's actually a lot easier than you may think.
Follow these simple decorating tips to make any room with high ceilings feel cozier and more inviting.
High Ceilings Tips
Paint the ceiling
If you think of the ceiling as another blank canvas, a lot of possibilities open up. You can create a "wow" factor in a room by the ceiling alone, but even if you just want to do something subtle, painting the ceiling can help lower the ceiling for a sense of coziness while also highlighting the beauty of the tall ceilings. Go for a few shades lighter or darker than your walls for a subtle effect or a bold color for something more dramatic.
Do two-tone walls
Another way to pull the ceiling in closer is to do two-tone walls. One solid color lengthens while color blocking shortens. There are many options for two-tone walls such as doing one color on the top and another on the bottom, wallpaper on one half, or even opting for something textural like wainscoting or wood. This look also adds a lot of character to a space.
Accent with tall plants
Plants are wonderful to bring into your décor for a sense of life and warmth. They're also great for tall ceilings. Strategically place tall, potted plants to fill up some of that empty air space and make it feel more inviting.
Warm up the windows with curtains
Curtains are another great way to bring some warmth to a space. The soft texture of the fabric will finish off your windows and draw your eye lower so the space feels more intimate.
Create intimate conversation areas
Avoid keeping the furniture far apart, as this will amplify how large and cavernous the room feels. Instead, pull the furniture in closer together and anchor it with an area rug. If the room is particularly large, create a few small conversation or activity areas with a natural traffic flow between them.
Use luxurious textures
Luxurious textures can always be counted on to bring comfort and coziness to a room. Instead of using a lot of cold, hard, shiny surfaces, incorporate things like wood, faux fur, and plenty of soft textiles.