5 Steps to Staging an Elevated Home Office
In an age when many people work remotely, a great home office can be an excellent selling point for your home. Maybe you already have an office space or perhaps there's a spare room in your home you're looking to stage. Either way, there are some great ways to play up the room and make it more appealing to potential buyers. Home offices can often be one of the most frequently used rooms in a house, so it's a great idea to make it stand out. It's important to make it seem like a pleasant space for completing tasks. These are our five steps to staging an elevated home office.
Pick the Right Chair
In any office, comfort is key. Though the chair doesn't have to be the most ergonomic if it's solely for staging purposes, you'll still want to choose an inviting option. Not only will a nice chair add to the style of your room, but it also serves as a focal point for your elevated home office. With this in mind, you'll want to incorporate a chair that ties together the room and makes the right statement.
Choose Your Layout
The next aspect to consider when putting together an elevated home office is the layout. Of course, the most essential element of the office is the desk space. However, desk placement and the overall furniture layout can drastically change the workspace. If space allows, you can opt for accent chairs to sit across from your main office chair. You can also play around with a coffee station or bookshelf. Remember to maximize the room rather than making it feel cramped.
Keep it Organized
While it's crucial to keep every part of your home decluttered for staging, a home office should be extremely organized. This is a room that should inspire productivity and focus, so it's best to limit any distractions or loose papers. One way to do this is to optimize your storage. Use any built-in shelving to display books or folders, or consider adding an additional cabinet. A home office that feels tidy will be sure to attract more potential buyers.
Have Proper Lighting
When it comes to light, natural lighting is preferable for the perfect office setting. Setting up the desk near a window is a great way to bring more sunlight in. Natural lighting tends to help our mood and ability to focus. As a result, it's an added bonus for showing off how your home office is a wonderful environment for getting things done. Be sure you also include effective overhead lighting, and a desk lamp if needed.
Enhance with Accessories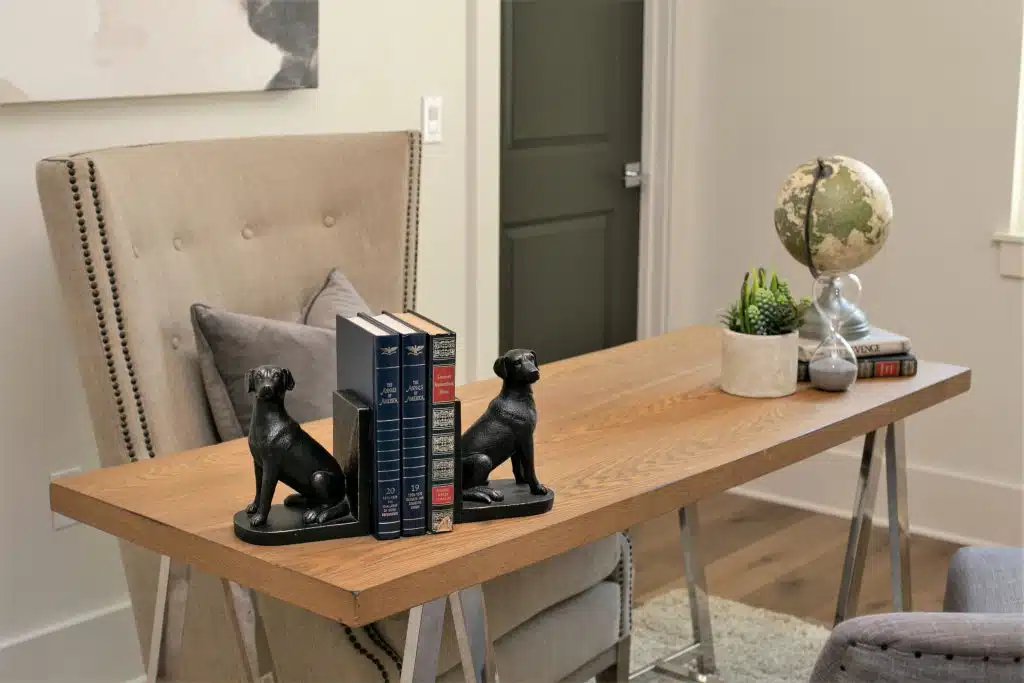 As simple as they might seem, the right office accessories can be the difference between a simple workspace and an elevated home office. It's not necessary to include a whole computer setup, but there are simple objects that can highlight the room's purpose. Some items you might choose to display include books and catalogs, bookends, stylish paperweights, or small desk plants. Whichever accessories you pick, be sure they look intentional and don't add clutter.
Schedule a Home Staging Consultation
We hope the five steps above serve as a helpful guide for planning and staging an elevated home office. A home office is not only nice to have, but it can be an essential room for some potential buyers. Need help staging your own home office? Consider hiring a professional staging company to help sell your home faster. MHM Professional Staging is a team of experts who will help you attract more buyers and sell your home for more. Request a home staging consultation today!