3 Things That Hold People Back From Home Staging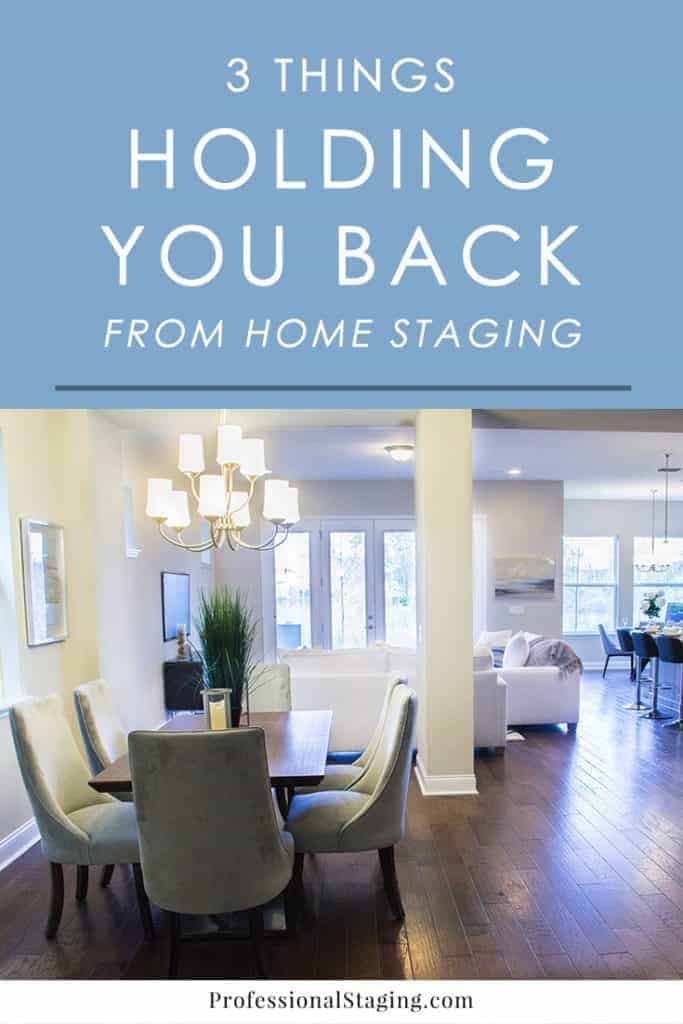 Home staging is being hailed as one of the most effective real estate marketing strategies of today. However, some home sellers are still wary of whether it's worth the hype and more importantly, worth the investment of time and money.
Here are three common concerns about home staging that we hear from buyers and why they shouldn't hold you back from taking advantage of the strategy that can help you sell your home faster and for more money.
Common Home Staging Concerns
"It costs too much"
The most common concern from sellers about home staging is the investment. There is a range of costs involved depending on how much staging the home needs, which can include necessary repairs, fresh paint, new flooring, and furniture/décor.
Some buyers get "sticker shock" from the upfront investment, but an investment in home staging is always a small fraction of the home's value, and many staged homes have been found to sell for more than 6% above the asking price (according to a Coldwell Banker Real Estate Corp. survey).
Home staging can be done on a budget, too. There are a lot of home staging tricks that don't cost a lot of money but still improve the appeal of your home to buyers and help you sell your home faster. One budget-friendly alternative to home staging is soft staging, which works well for some homes, particularly empty ones.
For budget-friendly DIY home staging, follow Megan Morris's home staging guide Stageology: How to Stage to Sell. We also offer an affordable Virtual Staging service if you want some professional guidance that you can implement yourself.
"Buyers don't care about cosmetic details"
In a perfect world, you could list your home as-is and have buyers lining up to pay full asking price within a few days. While this does happen in some very rare cases, most homes have to deal with the reality of a highly competitive market.
If your home doesn't immediately appeal to buyers in MLS photos on websites like Zillow and Realtor.com, they won't even bother touring it in person. Personalized décor, damages (even small ones), and clutter all turn-off buyers. Not only do they distract them from the merits of the home, but they also read as dollar signs because of all the things the extra investments the buyer will have to make in order to make the home look the way they want it to.
"I'll give them an allowance" is a common solution many home sellers come up with, but that leaves buyers nervous that things will end up costing a lot more than the seller is offering upfront. It's better to present buyers with a clean, well-maintained, de-personalized home to make them feel confident from the get-go.
"My home is already decorated"
It's a common misconception that decorating and home staging are one in the same. However, decorating is décor personalized to a specific person's tastes, while home staging is focused on highlighting the home's strengths and appealing to the broadest number of people possible.
Even if your home has been professionally decorated and organized, it could still benefit from home staging. Home staging is like packaging a product for sale. It's meant to make it more appealing to the market. You want buyers imagining what their life will be like in the home, not getting distracted by the current homeowner's style. For some buyers, if they don't share the same tastes, it can spoil how they feel about the entire home, even if everything could be easily changed.
Click here to learn more about the benefits of home staging and why so many sellers and Realtors are turning to it as a major real estate marketing strategy. >>