Home Staging Webinar: Bathroom Staging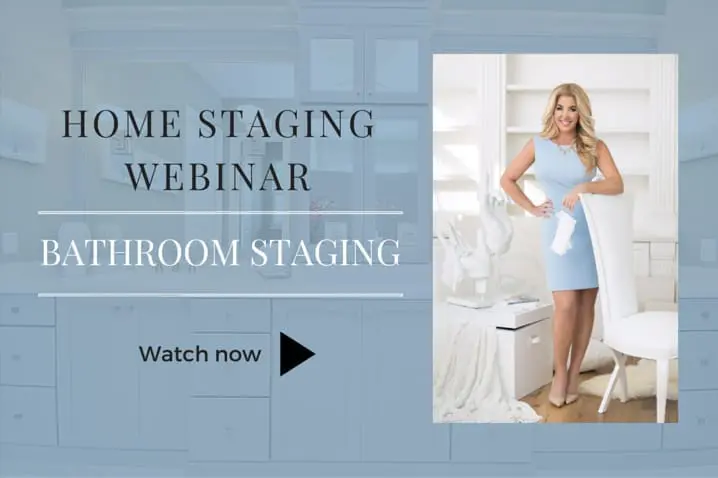 The master bathroom is meant to be one of the most relaxing spaces in a home. It's where you start your day and where you go to refresh and unwind at the end of it. When you are staging a home for sale, it's important to keep these things in mind to get the desired reaction from buyers.

Staging a bathroom is very easy to do with the right accessories. You can spice it up and make it look much more inviting with some simple décor. Every bathroom in your home, especially the master bathroom, should feel spa-like and make buyers believe their lives will be more relaxing in this new bathroom versus their old bathroom.
In this video on bathroom staging from Megan's free Home Staging Webinar, she will show you:
How to improve the look of your bathroom using some simple tricks and accessories
Ideas you can take from hotel rooms to capture that "spa-like" feel that buyers love
Tips on choosing the right hand towels and how to decorate with them to freshen up the space
What to consider when it comes to bathroom renovations
And the most important thing to keep in mind when staging a bathroom
Bathroom staging starts with evaluating the space. Most bathrooms can be updated with simple fixes and the right décor, but occasionally some renovations are necessary. Megan goes over what areas of the bathroom you should invest in if they aren't quite up to par.
To put the finishing touches on your bathroom, she will demonstrate how to put together some DIY décor and other quick and easy tips on freshening up the space. All it takes are a few key pieces to style your counters, bathtub, and/or shower to set the scene. For example, Megan will also show you how to fold towels in a popular hotel style and how to use lighting to add glamour and character to any bathroom.
When staging bathrooms, the key is to remember that you are trying to sell a fantasy. It's all about buyers believing they have found the perfect spot to relax in and unwind after a long day. A master bathroom should feel luxurious. Megan will show you how to make any bathroom feel that way with her easy staging tips.
Watch Megan's Home Staging Webinar: Bathroom Staging to learn how to make your bathrooms look great.