The Most Overlooked Spots for Home Staging That Buyers WILL Notice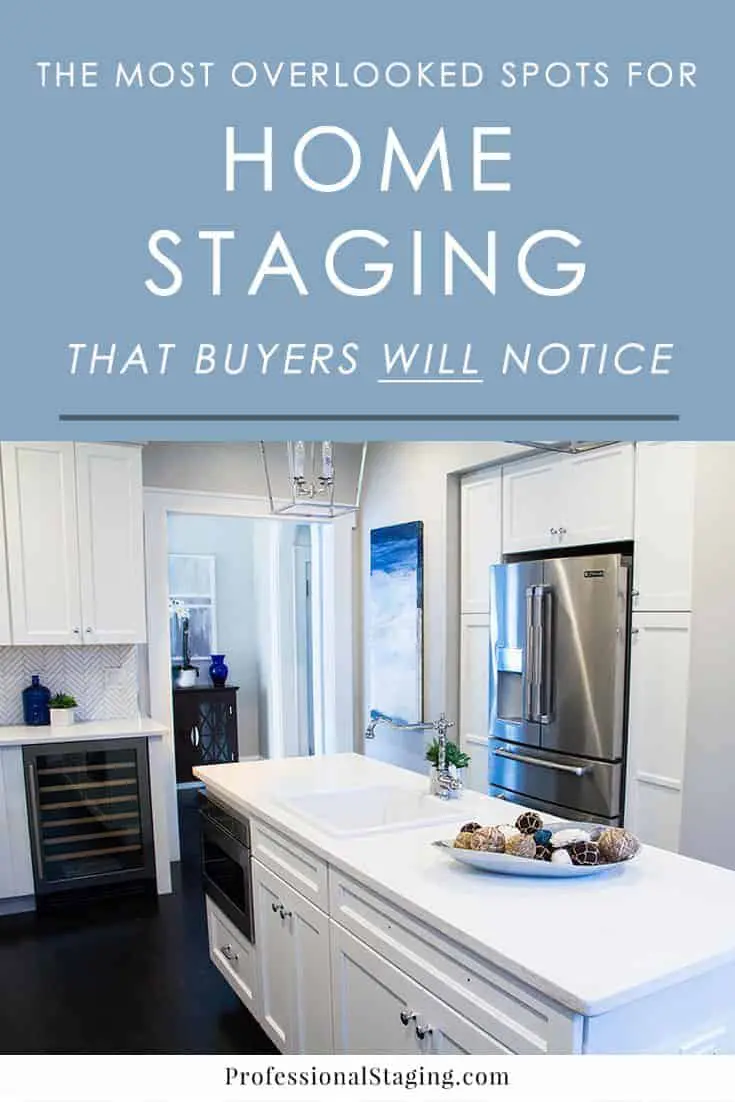 When it comes to staging a home for sale, it's all about presentation and highlighting the home's best features. The reason home staging works is that it uses the same principles that marketers and designers use when packaging a product. Home staging makes homes more appealing and communicates to buyers why they should choose to invest their money in that property over the rest.
While there are certain areas of the home that are the most important to buyers, that doesn't mean that other areas won't have an impact on their decision. There are some spots that homeowners tend to overlook when staging a home, assuming that buyers won't see them or that if they do, it won't matter what they look like as long as the rest of the home shows well.
That's not true!
Every area in a home will make an impression on a buyer, so it's beneficial to make sure it's a good one. In this article are the three most overlooked areas in home staging that buyers WILL notice.
Overlooked Areas for Home Staging
Closets
For many of us, closets are a catch-all for anything we want to hide. Not only do they hold our clothes and shoes, but a lot of other items tend to get stored away in them over time. When homes are listed for sale, they're the first place homeowners tend to shove things to declutter the main areas when buyers come to view it.
The problem with treating your closets like storage units while selling is that buyers will look inside them. And if you think they'll get the gist of the size even if it's stuffed full of clothes and miscellaneous items, think again. Storage is one of the most important elements buyers look for in homes, and listings that appear to have subpar storage space will lose points. When closets are stuffed to the brim or appear unorganized, it actually makes it look like your house doesn't have enough storage space because you've had to cram everything in.
It's very important to declutter your closets (including linen closets) and organize them so buyers get a better impression of the space. It's a good idea to remove as much as you can from the closets and store them elsewhere off property, such as in a storage facility or at a friend or family members home until you move.
Cabinets
Like closets, cabinets are another area where miscellaneous items get stored and forgotten about. A lot of buyers will peek inside of those, too, to see how much storage space is available in the kitchen and bathrooms.
Before you list the home, go through the cabinets and get rid of any that is expired or that you don't need. The more you get rid of, the better. Wipe them down and organize them with baskets and shelving to show how much space there really is. Cleaning them up will also give a better impression of your house overall.
The garage
The garage is the mother of all catch-all spaces. It's one of the last places people bother to organize because it's out of sight, out of mind. However, most buyers will peek at the garage to – again – see how much storage space is there. Not all garages are shaped or sized the same. Some have extra flex space, while others are smaller than average, so buyers will often check to see how many cars can comfortably fit into it and how much storage space is available on either side.
Take the time to clean out your garage and get rid of anything you no longer need or want. (This will save you time when it comes time to move, too.) Then, organize it as efficiently as possible so buyers can clearly see how much space there is. Leave plenty of room for them to walk around and get a feel for how the space is laid out.
Want more home staging tips like this that will help you get your house sold faster? Click here to watch Megan's free Home Staging Webinar where she covers all the most important strategies! >>