How to Choose the Right Art for Home Staging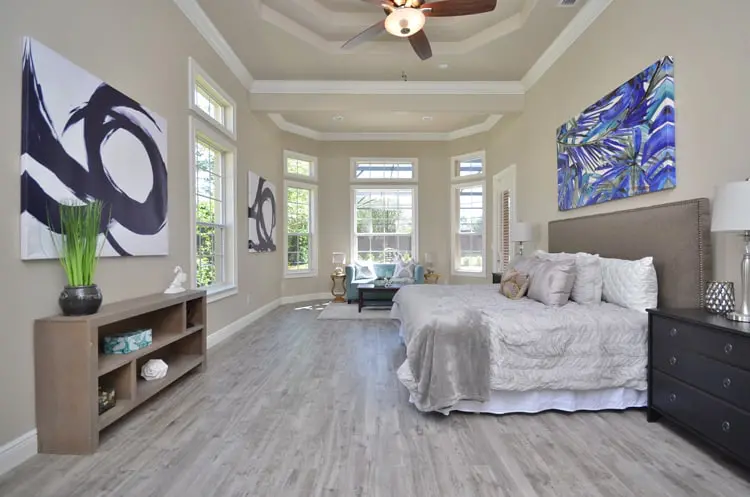 When staging a home to position it well for sale, making sure that you have the appropriate artwork on your walls is critical. You might already know that color appeals to certain psychological triggers for emotion – blues are typically calming colors, while reds indicate excitement and passion. While that plays an important role in artwork, the imagery that's found in paintings and pictures adds another layer of meaning. Artwork can also cue subconscious feelings or associations in your buyers that affect whether they are emotionally attracted to your home… or not.
Luckily, we know how to position your home to attract a broad range of home buyers – including selecting the home staging art for your walls. We find that it's best to keep artwork simple. To present the home in the most appealing light possible, the best artwork does not feature images of people. Instead, we prefer to use pieces that portray interesting but neutral visuals. At the most, a piece might feature a silhouette of a person, or a figurative rendering of someone.
The Do's of Art for Home Staging:
Abstract artwork
Nature
Landscapes
Geometric shapes
Still life subjects
Appropriate silhouettes or figurative renderings of people
The Don'ts of Art for Home Staging:
Family photographs
Images or paintings of people
Inappropriate artwork or photography
Religious or political artwork
Our objective is to help your prospective buyers imagine themselves living in your home. If they see images of people who currently live in the home, this will remind them that they are in a stranger's home rather than inspire them to envision it as their next home. Leverage the power of home staging to make it as easy as possible for your buyers to feel comfortable – and that includes the artwork on your walls!
Other Aspects of Choosing the Best Art for Staging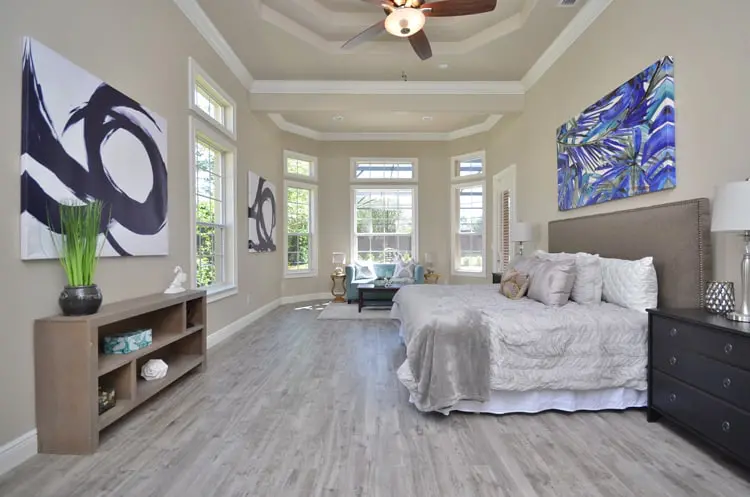 Color is very important in artwork, as it's a perfect opportunity for adding pops of brightness to a room that's full of neutral background colors. Of course, make sure that the hues in your home's artwork coordinate well with your current punches of color that are found in your pillows and accessories.
Selecting the right size – or scale, as we say in the staging business – is also vital. The scale of your artwork should be proportional to the height and width of your wall. If you are hanging art on a wall that's smaller, then you might consider hanging a modestly sized framed picture. Alternatively, if you are filling a larger wall, select a large scenic piece that is scaled appropriately. Additionally, should you be staging a room with two large walls, we like to balance the walls with a similarly sized "mass" of artwork. If you hang a large piece on one wall, adorn the second large wall with a collection of sizes, so the room feels right.
To recap, some things to keep in mind are:
Size and scale ─ Make sure the art you choose suits the wall it's hanging on and other furniture around it. For instance, don't hang a very small framed picture on a large, empty wall.
Balance ─ Make sure your walls are balanced with artwork and furniture so that one side doesn't appear "heavier" than the other.
Color ─ Use artwork to bring in pops of color if the space needs it. If you have enough colorful accents already, feel free to opt for something neutral.
Gallery wall ─ Instead of one large piece, you can create a gallery wall using a variety of smaller pictures for the same effect.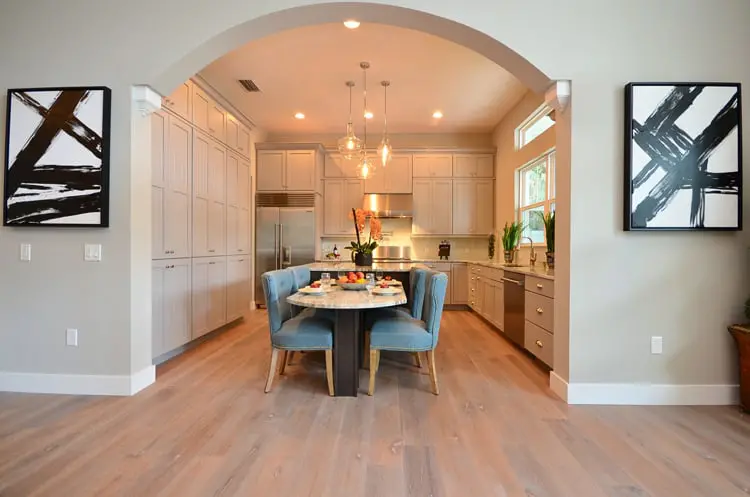 The truth is that your prospective buyers will be evaluating many other aspects of your home to determine if they would love it enough to purchase. While they might not directly consider your art as something important (after all, it doesn't stay with the home), the subconscious cues that they receive from the art can set off either positive or negative feelings for them. Home staging is all about bringing out the home's best features and creating a positive, inviting vibe when potential buyers tour the property.
Megan Morris has designed a collection of art for home staging specifically with this goal in mind. Shop Megan's home staging art for a variety of colors and styles to suit any home on the market.