The Best Accent Colors to Attract Home Buyers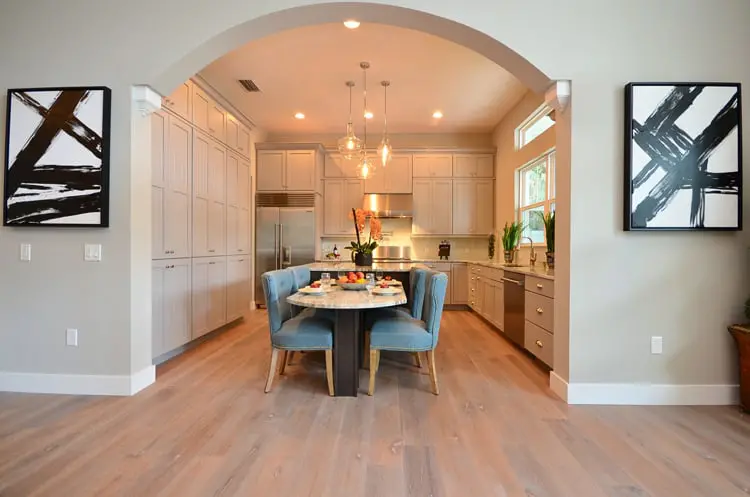 Color is one of the most underrated tools in selling a home. A home that uses color correctly can inspire home buyers much more than one that lacks it or has used color as an afterthought. It is a powerful element that can speak to a buyer's psychology and inspire them to make an offer.
In home staging, we always recommend neutralizing a home's palette and then bringing color back in through strategic accents. Using accent colors will enhance the home and help draw buyers' eyes to the positive attributes of it. It can make it feel fresh, comfortable, and all-around more inviting.
Here are our 4 favorite accent colors to use that buyers respond to the best, along with some home staging tips on how to incorporate them into your home.
The 4 Best Accent Colors for Home Staging
1) Light Blue
Light blue is our favorite accent color for home staging because it is a universally refreshing and relaxing color. People equate blue with the sky and the ocean, two things that typically trigger a calming reaction. When paired with neutrals, it adds life to a space without overpowering it too much and always looks very elegant, even in a more comfortable setting. A soft blue also stirs feelings of trust and dependability, two great things for buyers to feel while touring a house.
2) Green
Green is the color most often associated with nature, so this is a great accent color to bring in when selling a home. It looks especially great when used through actual plants. We love to stage a home with plant life because it always makes a space feel fresher and more inviting. This can be a large potted plant (real or fake) by the front door or in the corner of a room, or something as small as a palm frond in a vase on the kitchen counter. Any small addition of green this way can mix with other accent colors, as well, and always has a great effect on the overall atmosphere of a home. If bringing it in through decorate accents besides plants, we recommend a softer shade of green.
3) Yellow
Yellow is the most cheerful color in the rainbow. It is the perfect accent color for a gray palette, which is very contemporary and a popular trend in homes today. It pops against the gray and provides a really crisp, modern look that buyers love. Lay some yellow pillows on a gray sofa and hang a piece of artwork with yellow in it, such as a flower, to pull it all together.
4) Orange
Orange is lively color that energizes people and is known to make people want to spend money. (A great thing when you're selling a home!) People think of affordability when they see the color orange, so you can take advantage of these positive emotions by including some orange accents in your staging. We especially love to use orange accents in outside living areas, as it makes people think of summer fun and entertaining.
How to Use Accent Colors in Home Staging
Pillows
We love to use pillows in home staging. Not only are there some beautiful designs out there to choose from that add a lot of style to a space, but they also provide a sense of comfort. If the furniture or bedding is neutral, pillows are the perfect way to bring in a touch of color. Mix neutral pillows in a pattern with some colorful ones to make it more dynamic.
Flowers
Nobody does color as well as nature. A beautiful bouquet of flowers or even one flower, such as an orchid, will bring some life and elegance to a space. You can use these anywhere in the home, such as an on end table, coffee table, kitchen counter, or even the bathroom counter. If fresh flowers aren't your thing, you can even use faux flowers. All you need is a simple vase and you're good to go.
Tablescapes
Decorating the dining room table is a must when staging a home. While it may seem frivolous, the simple act of setting the table for showings can have a strong impact on the reaction from home buyers. It will make them think of all the dinner parties and family gatherings they can have there and get their imaginations going. This is also a great spot to infuse a little color, such as in the centerpiece, chargers, plates, napkins, napkin rings, or stemware. We recommend choosing one or two of these elements to have color, while the rest should stay neutral.
(Want some more advice on setting a dining room table? Click here to watch our free webinar on creating beautiful tablescapes.)
Chairs
Accent chairs – such as bar stools, arm chairs, and dining room chairs – are great for infusing some larger accents of color into a space. If you do this sparingly, the results can be absolutely beautiful.
Small Décor
The sky is the limit when it comes to smaller decorative items you can use to add color to a space. They can be books, statues, trays, and other stylish pieces of décor that will bring some personality to your home. As always, be sparing in your choices. You don't want to overload a room with lots of little colorful knick-knacks.
Artwork
Since the walls need to be neutral in a home for sale, hanging some colorful and tasteful artwork is a great way to bring some color back into a space. Click here for some more tips on choosing the right art for home staging.
Color can be a powerful motivator for one's imagination and trigger positive emotional responses. That's why it is such a great tool in home staging.
Want to learn more about using color to help sell your home? Check out the episode of Megan's home staging webinar where she dives deeper into the psychology of color.