Staging Your Entryway to Sell Your Home
Creating the best first impression when selling your home is vital since the first impression is a lasting one. Try looking at your home through the eyes of the buyer. One of the first things potential buyers pay attention to after curb appeal is your entryway. That's why staging your entryway is so important. Unfortunately, many homeowners often overlook this area. However, it's a huge missed opportunity. Try to avoid making the same mistake. Think of the entry to your home as the beacon signaling a place of welcome.
Staging the Exterior of Your Entryway
The area right before the buyer enters your home needs to be immaculate. The steps should be free of cobwebs, dirt, and debris. Your front door should be spotless. Check that there are no warps or cracks which often occur due to direct sunlight. To leave the best impression, we recommend a freshly stained or painted front door. In addition, make sure door fixtures are clean and polished or new. This includes the handle, kickplate, doorknocker, doorbell, and/or peephole.
If you are going to invest in anything, make sure to invest in a new welcome mat. A black one with a simple scroll design is an excellent choice. Another way to make your exterior feel more inviting is by adding pots of geraniums or other flowers near the front door.
Staging the Interior Entryway
Keep your entryway open and spacious to create a better flow. When filling it, make sure each piece you add serves a purpose in creating the ideal environment. Since the entryway is often an afterthought, many people just place things in the entryway to fill up space. They often fill it with things that add little to no visual impact like a random coat rack. However, the goal is to create an exciting space that holds visual interest. The entire essence of the house can be established in the entryway. Think of your entryway as the grand debut, prologue to a story, or trailer for the feature presentation.
Lighting
The right light fixture in your entryway is an easy way to add style and makes such a difference. For a glamorous entryway, an elegant chandelier is a wonderful option. If there is enough room, a round table underneath the chandelier with flowers on top will help create an inviting atmosphere. If you want to add a unique flair, opt for an artistic lighting installation. You can also choose something simple, yet chic. Whatever you choose, try to pick something that will appeal to the widest market possible.
Mirror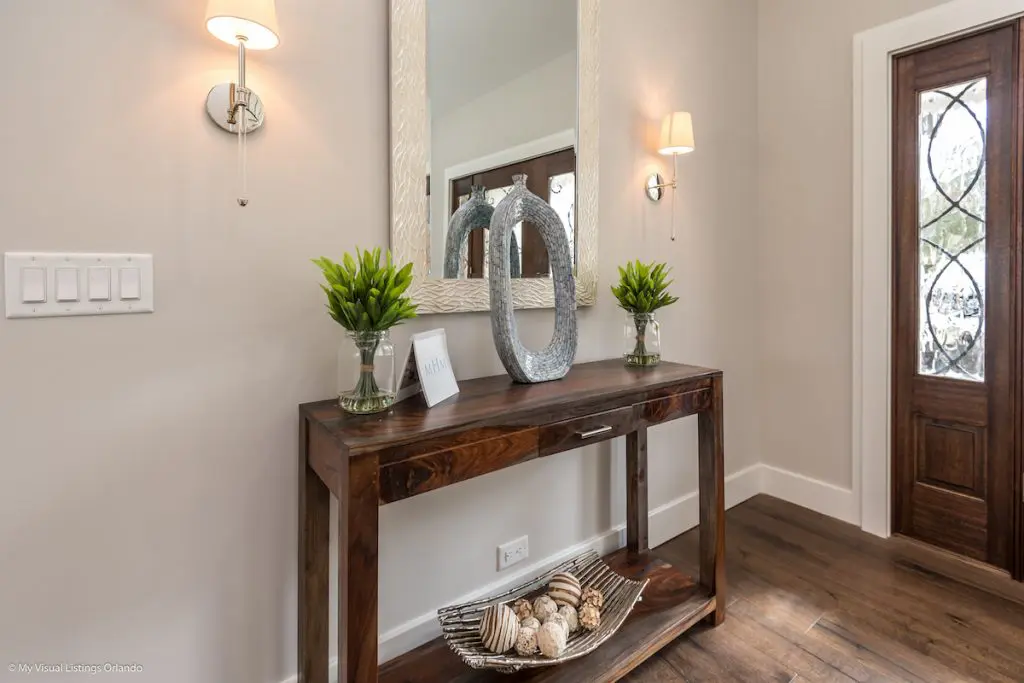 A mirror is another excellent addition to spruce up your entryway. Adding a mirror is a useful trick to make a smaller entryway appear bigger. For more tips on how to make small spaces look bigger, check out this post. Mirrors also work wonderfully for dark entryways since the mirror will reflect light. It's a great piece to add above a console table.
Rug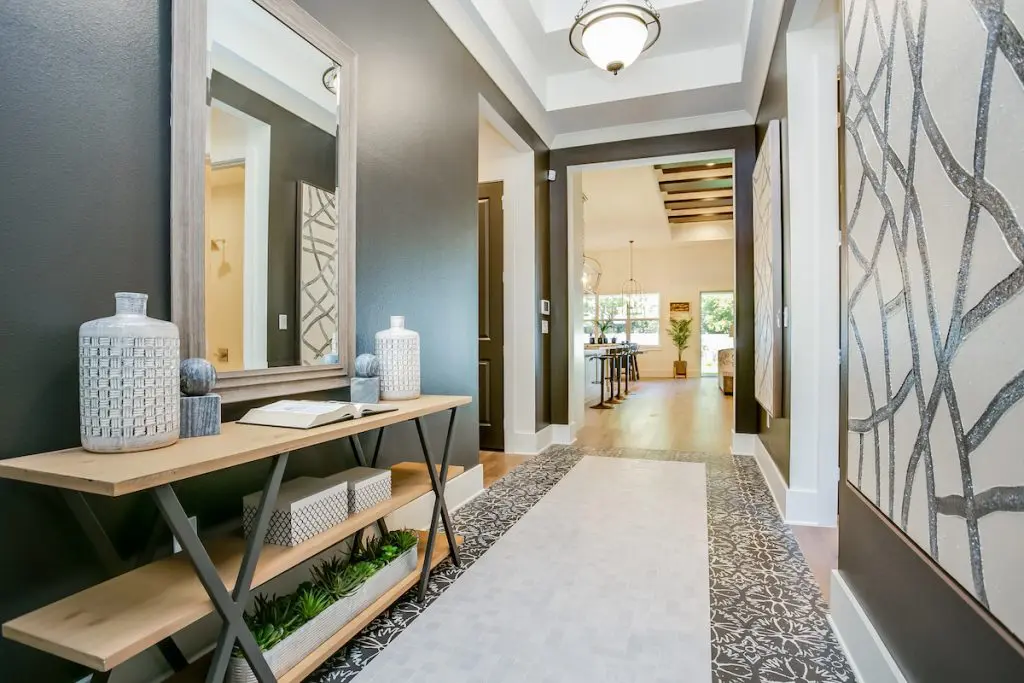 Adding a beautiful rug is a perfect way to warm up any entryway, especially large ones. You may want to consider a runner for a small entryway. A rug can add visual interest by bringing in color, pattern, or texture. A great rug will help make the house feel more inviting.
Artwork
Artwork is another way to make your entryway more visually appealing. It adds character and color. It also makes a space feel more complete and helps set the right tone. Simply adding one large-eye catching piece can do the trick. You can also use artwork as the finishing touch that pulls together a vignette.
Color
You can make your entryway more engaging by adding color. This can be done through an accent wall or decor pieces. A pop of color through one stylish accent can be just enough to add excitement to your entryway.
Final Checklist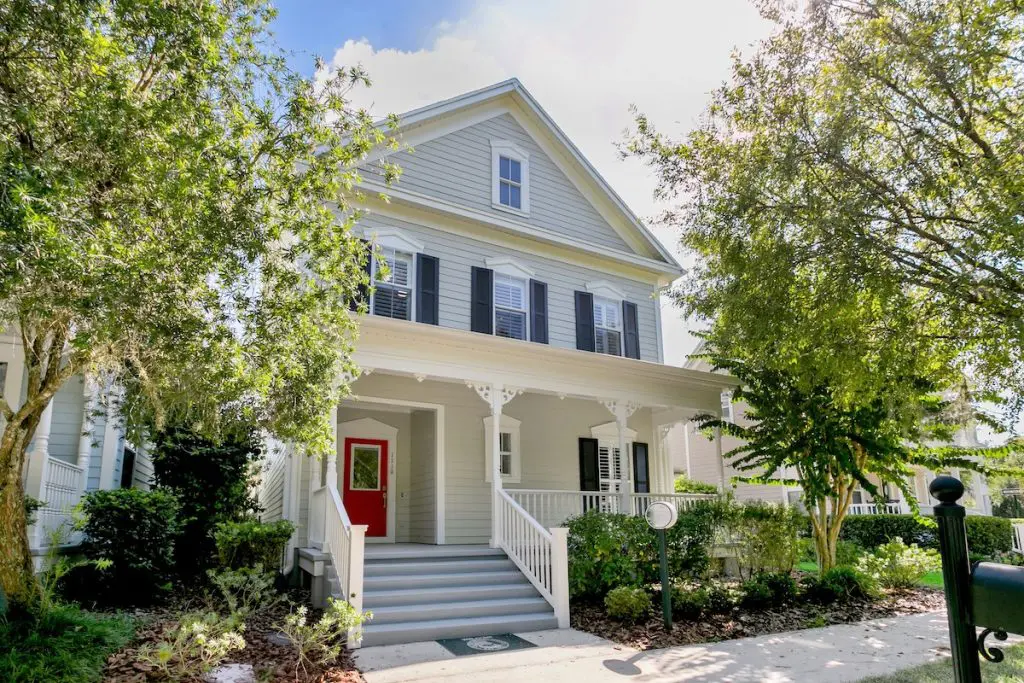 Before showing your home to potential buyers, ask yourself these questions to make sure your entryway is ready to dazzle.
Does your entryway feel warm and inviting?
Is the doorway intriguing?
Is maintenance kept up? Make sure there are no loose floorboards that could creak or slip.
Is the lighting updated, clean, and working properly (both inside and outside)?
How does your home look at different times including day and night?
Does your front porch look immaculate?
Is your exterior free of cobwebs, wasps nests, and dirt?
Is your front door perfect? Are the hinges rust and squeak-free?
Are the shutters tight and freshly painted?
Did you remove trash cans and garden supplies out of plan sight?
Are windows and garage door clean and operable?
Schedule a Home Staging Consultation
The entryway is the first and last part of your home that the buyer sees. Not only is it their first impression, but it's also their last impression. Make it count by staging your entryway. Need help making it count so that you can sell your home for top dollar? Our professional staging team would love to help you. Request a home staging consultation.