Sell Your Home Faster: The Ultimate Home Staging Checklist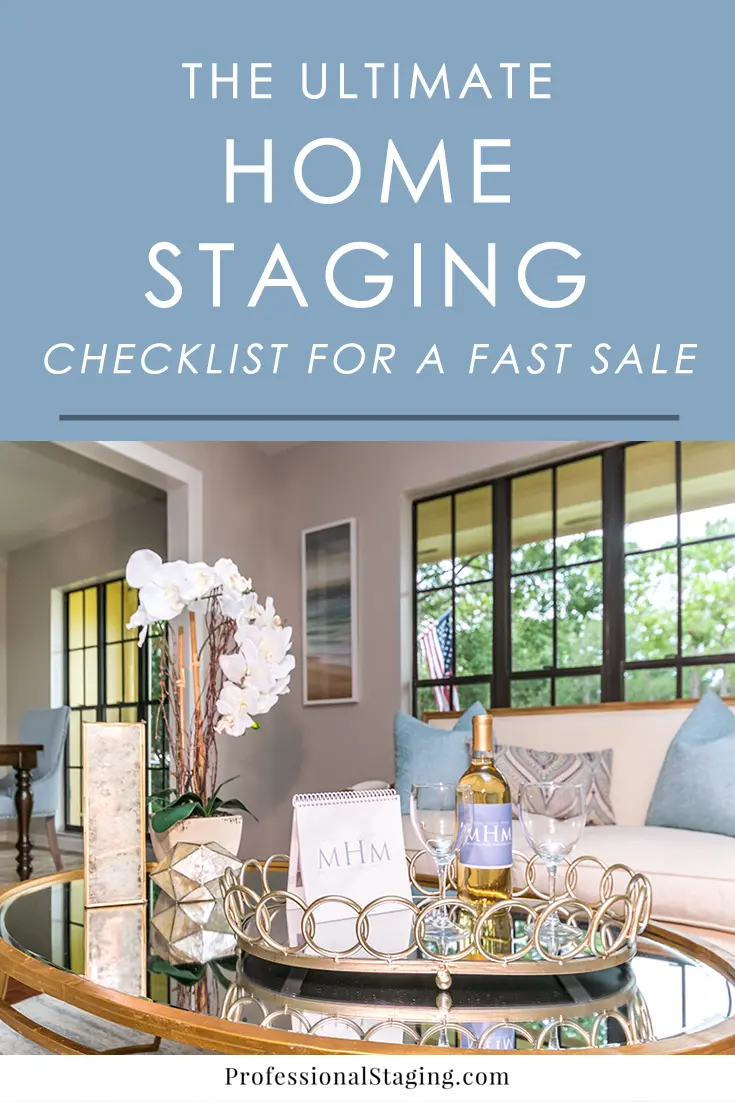 Staging a home is a highly effective way to sell it faster and for top dollar. Home staging highlights the home's best features, helps it stand out from the competition, and inspires buyers to form an emotional connection with the home. It's smart to take advantage of its benefits to get the most money possible for your listing.
Here is a comprehensive home staging checklist to make sure you are covering all of your bases before you start showing it to buyers.
Home Staging Checklist
Preparation
Evaluate each room from a buyer's perspective
Talk to a local real estate agent and professional home stager for customized advice
Make any necessary repairs (consider hiring a home inspector to find out what needs to be done)
Declutter and Depersonalize
Go through every room and get rid of anything you no longer want or need
Depersonalize the décor with a neutral color scheme
Get rid of features like wallpaper, popcorn ceilings, and outdated carpet
Edit the décor on shelves and surfaces so there is less visual clutter
Put away family photos, kids' artwork, certifications, toys, and pet supplies
Make sure there is a natural traffic flow in each space by rearranging furniture and getting rid of any pieces that are too bulky
Allow as much light in as possible and add artificial lighting to dark corners
Thoroughly clean the entire home (click here for a full cleaning checklist for staged homes)
Kitchen
Clean everything off the countertops to show as much counter space as possible except for a few key decorative items like flowers, apothecary jars, or a bowl of fruit
Put away small appliances
If the cabinets are outdated, update them with a fresh coat of paint and new hardware
Declutter the cabinets and organize the items so buyers will see that they offer plenty of storage space
Declutter and organize the pantry
Clean the entire kitchen, including the interiors of the cabinets and appliances
Evaluate the appliances and consider updating them before listing the home if they are in subpar condition
Clean the trash cans and move them out of sight if possible
Living Room
Evaluate the traffic pattern and make sure there is a natural flow through the space
Get rid of bulky or unnecessary furniture to create more space
Edit the shelves and surfaces so there is minimal décor left and more open space
Put away movies, video games, and magazines
Gather small items like television remotes in a pretty box
Cover outdated furniture or bold patterns with neutral slipcovers
Accent the sofa and chairs with pretty accent pillows
If you have one, clean out the fireplace and stage it (such as with a stack of wood or tools)
Bedrooms
Bathrooms
Do a deep clean and polish everything
Make necessary repairs like re-caulking around the tub and sink
Switch out outdated elements like unappealing tile and flooring
Declutter the countertop and cabinets and organize the latter
Create a spa-like appeal with elements like a white bathrobe hanging on the door, luxurious white towels, apothecary jars filled with pretty soaps or loofahs, flowers, and candles
Other Spaces
Address any awkward spaces and stage them to make them more appealing to buyers (click here for tips on how to deal with awkward spaces)
Declutter your home office, clear off the surfaces except for a few key items and décor, put away and secure important documents, and create as much open space as possible
Declutter and organize the garage
Curb Appeal and Backyard
Make sure your house numbers are visible from the street and look good, and that the mailbox is in great shape
Power-wash the exterior of the home including the façade, driveway, sidewalk, and front porch
Clean out the gutters
Make any necessary repairs to the exterior of the home
Add a fresh coat of paint to the front door and make sure any light fixtures are clean and updated
Put out a simple, pretty welcome mat
Clean up the yard, fertilize the grass, and add colorful plants to the landscaping
Trim back trees and shrubs to make sure buyers can see the house and that plenty of natural light can make it inside
Make any outdoor living spaces appealing with comfortable furniture and stylish décor
Extra Touches
Make sure the home smells great by keeping it clean, airing it out every day, and adding extra scents from candles, air fresheners, or by baking something in the oven before showings
Switch out any art that is too personal in taste for pieces that are more neutral and appropriate for all audiences
Hide pet items from view before showings
Want some personalized home staging advice? Click here to learn about our variety of staging services! >>