Making the Most of Your New Build's Outdoor Spaces
In today's modern living, it's worth noting that new build's outdoor spaces have evolved from mere backyards to integral components that offer endless possibilities to enhance your lifestyle and boost your property's value. In contemporary residential architecture, outdoor spaces hold profound significance. You might think home staging is irrelevant to outdoor spaces, but let us convince you otherwise.
Why Focus on Outdoor
Buyer Expectations
In the current real estate market, buyers have elevated expectations regarding outdoor living spaces. A well-designed and well-maintained outdoor area is a significant selling point, enhancing the attractiveness of your property. With home staging in an outdoor space, buyers are more likely to express interest in your property.
The Long-term Value of Well-Designed Outdoor Spaces
Investing in your outdoor space isn't just about immediate value; it's a long-term asset. These spaces extend your living area, providing a canvas for creating lasting memories, entertainment, and relaxation.
Added Living Space
Your outdoor space is more than an empty canvas; it's an additional living space waiting to be explored. Whether for outdoor dining, gardening, or versatile use, these spaces enhance your lifestyle.
What to Consider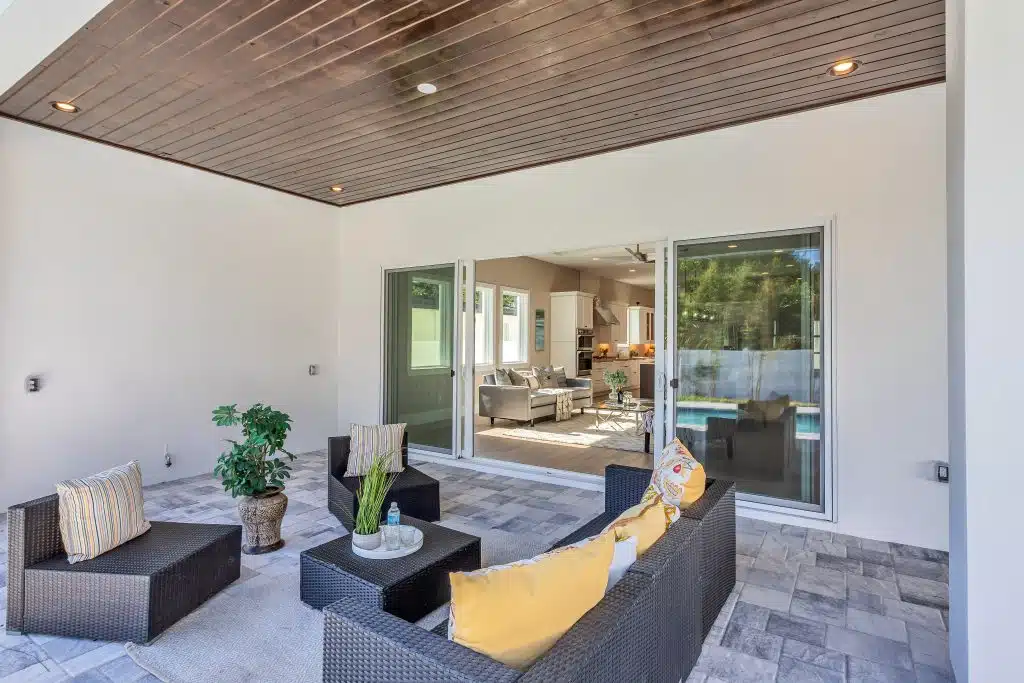 Think About Climate and Weather Patterns
Understanding your local climate and weather patterns is essential. This knowledge guides your choice of materials and elements that can withstand the elements.
Choosing a Style and Theme
Your outdoor space should harmonize with your home's architectural style and personal preferences. A cohesive design ensures a seamless transition from indoors to outdoors.
The Purpose of the Area
Define the primary purpose of the space, whether it's for dining, relaxation, or multi-functionality. This clarity guides your design choices.
What About a Budget?
Setting a budget is crucial for informed decision-making. It helps you allocate resources effectively and prevents overspending.
Key Elements
Outdoor Furniture and Furnishings
Select outdoor furniture that balances aesthetics, durability, and comfort. Quality and weather-resistant materials are essential for long-term use. When it comes to outdoor decor, consider keeping the aesthetic minimal and neutral. It's best to keep the look natural and airy rather than adding too many bold patterns or colors.
Outdoor Dining Areas
Create a dedicated dining area tailored to the size of your gatherings and your dining style. Consider additions like outdoor kitchens or barbecue areas for an enhanced dining experience.
Lighting for Ambiance and Safety
Well-planned lighting extends your outdoor space's usability and creates the right mood. Use ambient, task, and accent lighting to enhance the atmosphere and ensure safety.
Shade and Shelter Options
Shade is crucial, especially in sunny climates. Choose from pergolas, umbrellas, or retractable awnings to provide comfort and protection.
Entertainment and Technology Considerations
Incorporate technology seamlessly with features like outdoor speakers, Wi-Fi, and weather-resistant TVs, enhancing the entertainment and functionality of your outdoor space.
Landscaping for Beauty and Functionality
Selecting Appropriate Plants and Trees
Choose plants and trees suited to your climate and that align with your chosen style and theme. Native species are often low-maintenance and attract local wildlife.
Creating Focal Points and Visual Interest
Focal points, such as sculptures or water features, add character to your outdoor space. Pathways, seating areas, and recreational spaces provide both function and aesthetics.
Let the Professionals Help
Maximizing your new build's outdoor spaces is a strategic investment in your home and lifestyle. At MHM, we understand the significance of outdoor spaces in modern living, and we're here to help you transform your outdoor area. We'll give you the competitive edge your home-building business needs by carefully curating every piece of furniture and artwork to match the quality of your custom home. Ready to get your home off the market? Schedule a home staging consultation today!