How to Take the Best Staged Photos of Your Home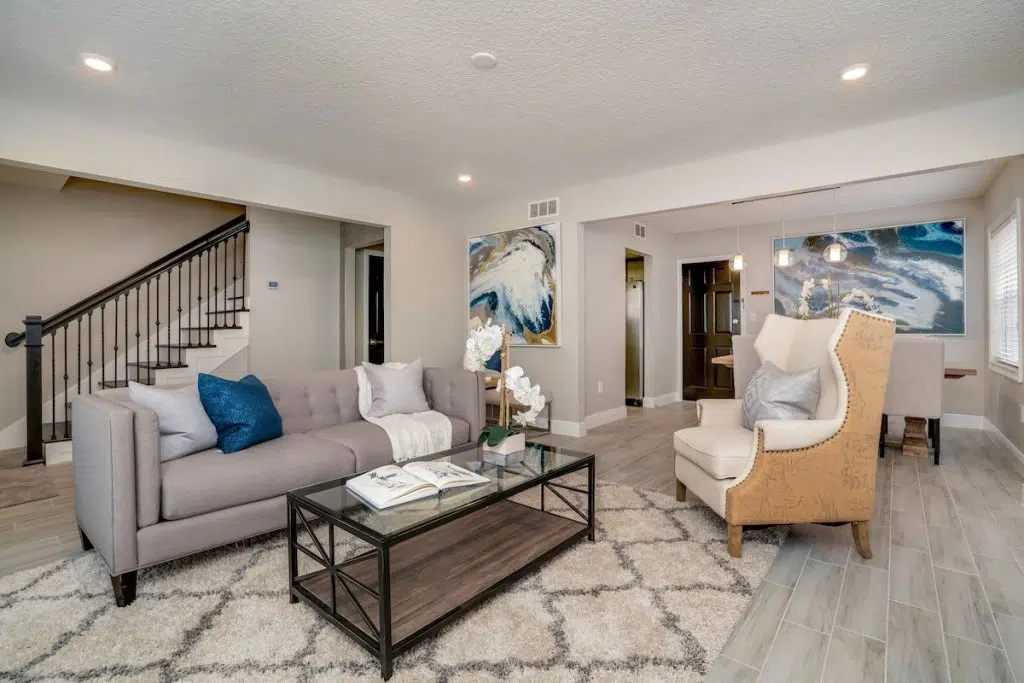 Most potential buyers start their home search online. That's why it's imperative to include quality staged photos of your home when listing it online. Pictures help potential buyers decide if they even want to visit your home. This is especially the case when they aren't local to the area. Here are some of our best tips on how to take the best staged photos of your home.
Consider Angles and Composition
As you are staging your home, consider which angle you will be taking the photos and design for that angle. Ask yourself which vantage point would be best. Choose angles that will showcase the best features of the home. Also, consider the composition of the photo (the way the image is framed). When taking photos of bedrooms and small spaces, stand in the very corners of the room to get the best shots.
Pay Attention to Lighting
When taking quality photos, lighting is one of the most important factors. Natural light is the best light, so let it shine through if you can. In rooms with windows, open the blinds and curtains to let the natural light in. Try to take pictures when your home is filled with indirect sunlight. Avoid taking photos when the sun is the brightest because the shadows can be too harsh. Take pictures with the lights on with the natural light to keep things bright and positive.
Use the Appropriate Lenses
Consider which lenses will give you the best shots. Large rooms with high ceilings are best captured with a wide-angle lens. A 35 mm lens is best for capturing features and details.
Check the View of Your Windows
When taking photos, be sure to check the windows to see if anything is in view that could be an eyesore. You may also want to clean up the areas outside of the windows that will be visible. Make sure the view is free of clutter.
Clean Reflective Objects and Surfaces
Dust, dirt, and streaks can easily show up on reflective objects and surfaces. Make sure to clean reflective areas for immaculate photos that make your place shine. Clean all glass surfaces, mirrors, vases, etc.
Remove Wrinkles
Wrinkles are easily be picked up on camera. Consider using a professional steamer to steam your bed sheets and pillowcases before taking photos. If you have fabric shower curtains in your bathrooms, you can also steam them so wrinkles do not show up in photos.
Give Your Throw Pillows A Karate Chop
Create a warm and inviting ambiance in your living spaces by making your throw pillows look full and plump. You can do this by fluffing them up and giving them a nice karate chop. A good karate chop makes the house feel less formal and adds texture and dimension to the space.
Consider the Basic Elements of Good Design
When taking photos, it's helpful to consider the basic elements of good design. This includes symmetry, repetition, and rhythm. Using these elements makes things more aesthetically pleasing to the human eye.
Include Exterior Photos of Your Home
It's very important to include enough exterior photos of your home when listing it for sale. Make sure your curb appeal is on point. When taking photos of the exterior, be sure to remove any cars from the driveway. The best time to take pictures of the exterior of your home is early evening. We recommend using a tripod and your camera's tripod. It's the easiest way to keep the camera straight and at horizon level for the best shots.
Schedule A Home Staging Consultation
It is essential to include quality photos of your staged home in your online listing. Quality photos will increase the chances of your home selling quickly and for the most money. Need help staging your home? Consider hiring a professional staging company like MHM Professional Staging. You want to avoid your home being on the market for too long.
We have decades of experience in real estate and home design and are experts on what sells a home. When you hire us for staging, you'll also get a photo package. It includes 30-50 high-quality images of your home with both exterior and interior photos. Request a home staging consultation today!