How to Decorate the Space Above the Bed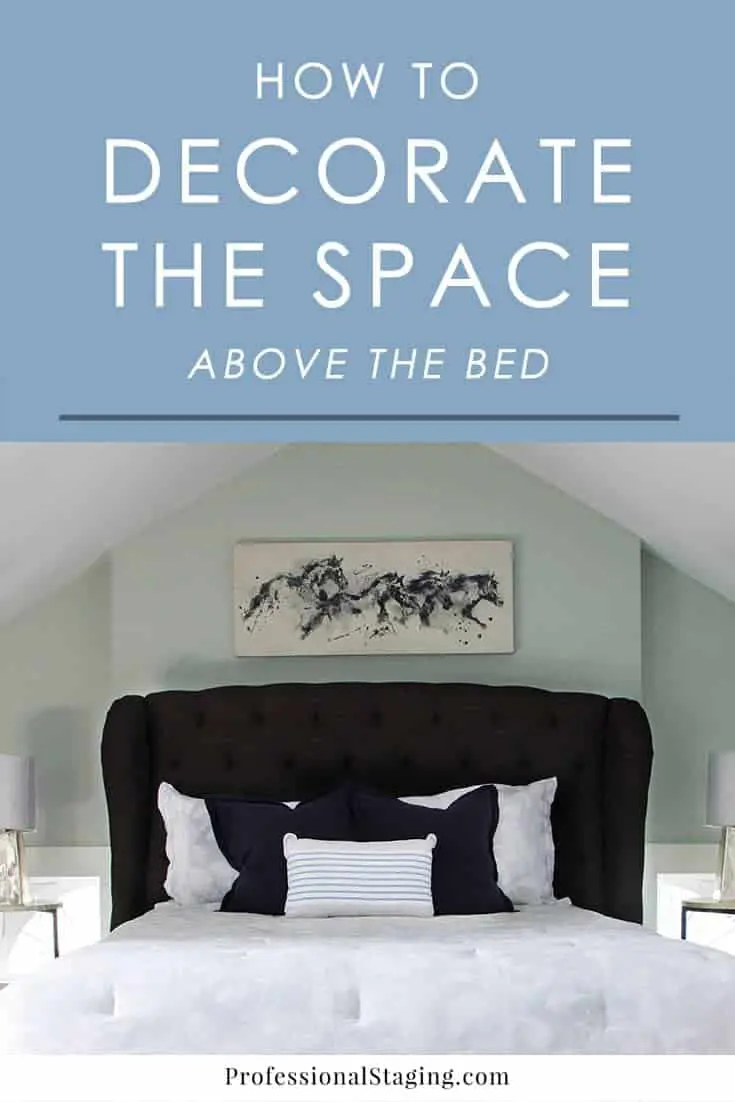 In a bedroom, the bed is the focal point of the space. You want your eyes to be drawn to it as soon as you walk in and for it to anchor the rest of the décor. With most beds, you'll be left with some empty space above the headboard that can make the bed look like it's floating in the room and lacking a real design statement.
There are a lot of ways you can decorate the space above the bed for a beautiful impact. Here are some of our favorites that are easy to implement and will create an eye-catching statement that will make your bedroom look more stylish.
Décor Ideas for Above the Bed
Large piece of art
A large piece of art can always be counted on to make an eye-catching statement. It instantly draws your eye in and expands the space. Even if you want to keep it simple, there is an endless selection of art out there, so you can easily find something that will suit your taste and style, as well as the size and shape that you need to fit the spot. If you like DIY projects, you could even create your own work of art on a blank canvas or plywood.
Gallery wall
Multiple works of art are another smart way to take advantage of the space above the bed. Three pieces of art in a row work well to fill the space horizontally with some negative space in between them for a clean look, or you can do an entire gallery wall for something more eclectic. Vary the sizes and even shapes of the art to make it more interesting, but keep the frames the same color (or a few complimenting colors) for a cohesive look.
Mirror
Mirrors are always an elegant choice. They add a bit of glamour and even make the space feel a bit larger and brighter by bouncing light. Depending on the impact you want it to have, you can do a large mirror (for something grander) or a small mirror (for a subtle look). The frame will also have an impact on it. An ornate frame is more luxurious, while a simple one will be cleaner and more streamlined.
Shelf
A shelf above the bed provides a lot of fun decorating opportunities. You can lean artwork on it, decorate it with some stylish accessories, or even line it with some candles (electric or traditional). Whenever you want to switch up the décor, you can easily do so, which is especially fun for the seasons.
Curtains
Curtains behind the bed instantly create a dramatic, luxurious appeal. It can make your entire bedroom look more elegant with one simple element. Curtains come in a variety of colors, patterns, and textures, so you can simply soften the walls with curtains close to the color of the walls or you can do something more eye-catching that will make a statement, like an accent color or bold pattern.
Chandelier
You can forego hanging something on the wall above the bed altogether and hang it from the ceiling instead. A chandelier still fills in that visual space. They come in a lot of different styles, too, whether you want something very glamorous and flashy or something more subtle. Even a bohemian-style chandelier could be a great touch for a relaxed, coastal bedroom, or a brightly-colored chandelier for a pop of color.
Click here for more tips on how to decorate the bedroom of your dreams! >>