3 Steps to Giving Your Home a More Streamlined Look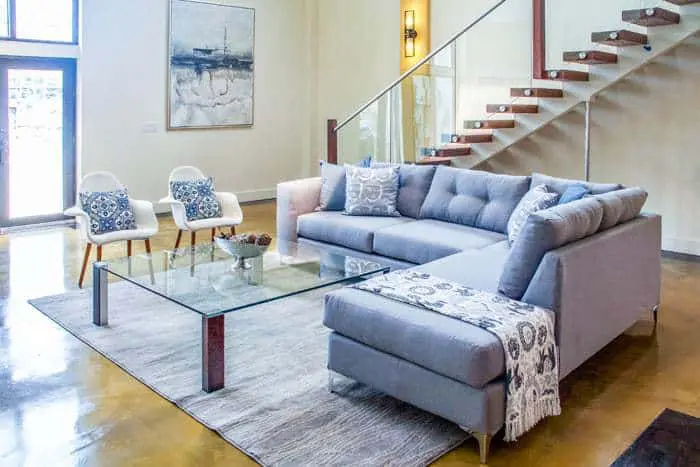 Many of today's most popular styles incorporate modern elements and clean lines. A lot of people are very inspired by a home that is simple and streamlined. It doesn't necessarily mean you have to go with a strictly modern, ultra-minimalist look, though. It simply means keeping things clean and simple.
Just about any style can be made to look more streamlined, including rustic, farmhouse, traditional and even glamorous. All it takes are a few simple elements that can be applied to any style.
Follow these 3 easy decorating tips to give your home a more streamlined aesthetic.
Decorating Tips for Streamlined Décor
Use Furniture with Clean Lines
For a streamlined look, most of the furniture should have very simple lines. Ornate shapes, details, and edging create a busier aesthetic. If you want a room to look cleaner and more modern, stick with furniture that has a simple design.
The most important aspect to keep simple is the shape of the furniture. You can get away with a busy pattern if the lines of the piece are classic and clean. However, you can take the streamlined look even further with solid colors.
Keep Major Elements Neutral
While a complete lack of color is not necessary for to accomplish streamlined décor, it does help. Neutrals are simpler and easier on the eye. That's why you see a lot of minimalist design in neutral color palettes. If you do want to decorate with some color, we recommend keeping your largest pieces in neutrals, including the walls, and then incorporate some smaller accents in a color or two.
One way to incorporate some color without veering too far from neutrals is to use plants and flowers. They bring in some beautiful natural color that doesn't stand out too much and still maintains a nice, streamlined look to the décor.
Stay Clutter-Free
The most challenging part of streamlined décor is keeping your home as decluttered as possible. This not only means keeping it tidy, but also limiting how much décor you have on the surfaces and walls of your home.
Start by thinning out the décor on your shelves and surfaces. The less décor you have out, the more streamlined it will look. Try to stick with one larger piece of decor rather than several little pieces for a less cluttered aesthetic.
The same goes for your furniture. Lots of furniture will make the space feel cramped. Minimize how many pieces are in the room so there is plenty of empty, negative space. A huge part of streamlined décor is negative space.
If you want some personalized advice on your décor, click here to learn about our virtual staging services that are available anywhere in the world. >>