Our Trending Color of the Month: Jubilee
At MHM Professional Staging, we love using color to turn an ordinary house into a buyer's dream home. Each month, our designers share a color that inspires their staging designs. This month, our trending color is Jubilee (SW 6468), a grayish blue. It has cooler gray undertones compared with last month's Color of the Month, Useful Gray, which has undertones on the warmer side.
About the Hue
As a shade of blue, this color is peaceful and easy on the eyes. It's tranquil and sophisticated. Other attributes associated with this color are honesty and reliability. Blue tones are said to promote clarity, pureness, and increased intuition.
How and When to Use Jubilee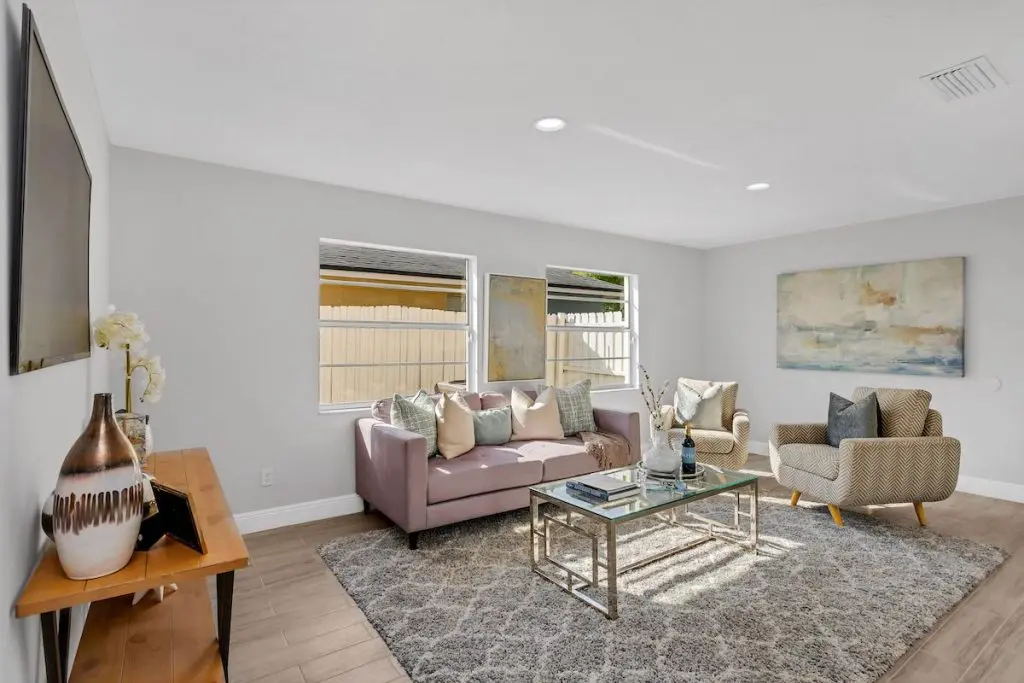 Jubilee has an LRV, or light reflecting value, of 45. This means the color absorbs more light than it reflects. This color is a decent color for staging homes since colors in the blue family are quite popular. However, you should pay extra attention to the lighting. Make sure the rooms in which you paint are well lit. If there isn't enough natural light, make sure to provide sufficient lighting with light fixtures.
As an Accent
If you want to use this color but would rather not paint full rooms, you can always paint an accent wall. Another way you can use this color as an accent is through a few furniture pieces in this color. If you want an even smaller splash of this color, you can use throw pillows or throw blankets in this shade. They are easy accessories that instantly add style to your home.
In a Farmhouse Style Home
Jubilee is a great color for a farmhouse style home. It also works for cottage styles since it has a southern charm to it. It's a non-threatening color, perfect for creating a welcoming atmosphere.
In the Bedroom
Since Jubilee is a calming color, it's perfect for bedrooms. As a shade of blue, this color can easily be associated with boys' rooms. However, the color is quite versatile and can make any space feel more lively and sophisticated.
In the Bathroom
This tranquil color is also well suited for bathrooms. The color can be associated with the ocean or sky, helping you feel more connected with nature. Create an even more serene atmosphere by adding plants.
Mix with Silver Metallics
Jubilee looks best with silver metallics. They are an easy way to make a space feel more refined. Some great silver metallic pieces you can add include frames, a coffee table, accent tables or a bar cart. If you choose to paint your kitchen or bathroom Jubilee, consider choosing silver fixtures.
Coordinating Colors
Pair with Other Neutrals
Jubilee looks great with other neutrals like grays and whites. Alabaster (SW 7008) is the perfect white pairing. Intellectual Gray (SW 7045), Keystone Gray (SW 7504), and Requisite Gray (SW 7023) are wonderful gray options.
Pair with Other Blues
For a monochromatic look, you can contrast the color with other blues. For a subtle blue, try Quicksilver (SW 6245). Windy Blue (SW 6240) or Sleepy Blue (SW 6225) are great light blue options. For another grayish blue, try Storm Cloud (SW 6249).
Pair with Contrasting Colors
Pairing Jubilee with contrasting colors is a great way to create visual interest. Aloe (SW 6464) is a pleasant green that will pair beautifully with Jubilee. Cyclamen (SW 6571) has shades of pink and purple, creating a fun and exciting contrast.
Book A Color Consultation
Color can turn an ordinary house into an extraordinary home. As professional designers, we can help you determine which shades will work best for your home—inside and out. Contact us to book a color consultation with one of our talented designers today.