Our Trending Color of the Month: Acacia Haze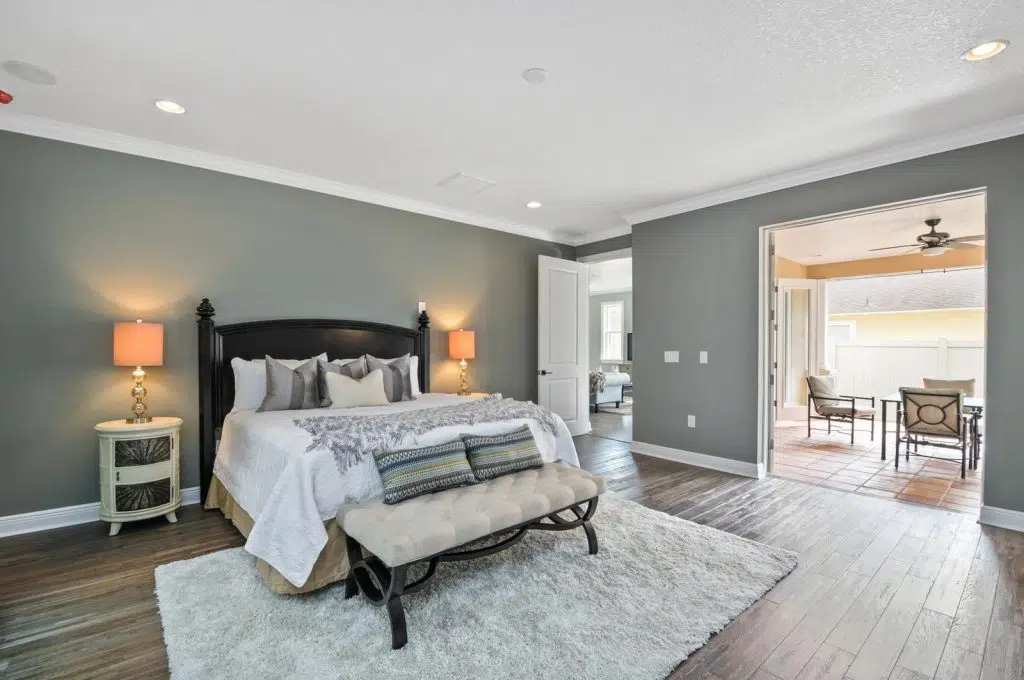 At MHM Professional Staging, we love using color to turn an ordinary house into a buyer's dream home. Each month, our designers share a color that inspires their staging designs. This month, our trending color is Acacia Haze (SW 9132), a gorgeous light green. It's a calm and refreshing color. It has warm undertones like last month's Color of the Month, Soft Apricot (SW 6352).
About the Hue
As a shade of green, Acacia Haze is a color that is associated with nature and good health. It's also associated with life, renewal, and growth. This soothing color can promote relaxation. It helps ease anxiety, nervousness, and depression. It can offer a sense of hope.
How and When to Use Acacia Haze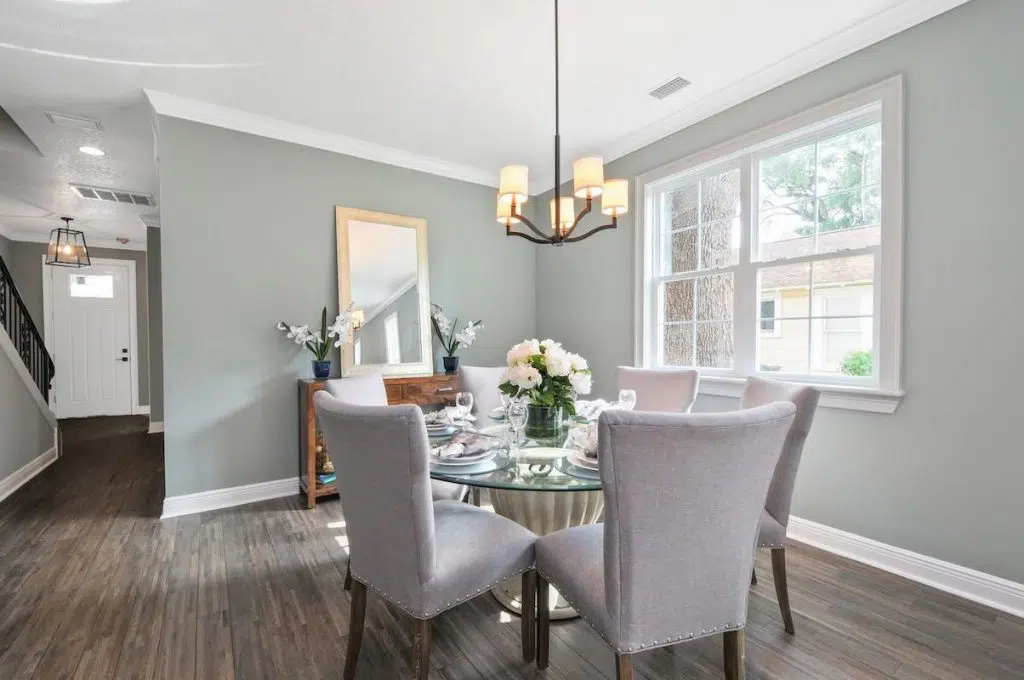 Soft Apricot has an LRV, or light reflecting value, of 32. This means the color doesn't reflect much light. Because it doesn't reflect much light, make sure there is sufficient lighting when using this color. When staging, we recommend using this color as an accent. It's an excellent color for accent walls in a staged home since it is gender-neutral and attractive to most eyes.
Acacia Haze is a versatile color, so it works well with a variety of design styles. It can look just as stunning in a farmhouse style home as it can in a modern, contemporary style home. Of course, it all depends on the materials, fixtures, and decor you use.
In a Farmhouse Style Home
The warmth of Acacia Haze makes it a very welcoming color, which is perfect for farmhouse style homes. This shade looks gorgeous paired with rustic finishes like exposed wood beams. In addition, the color would look especially stunning in a farmhouse style kitchen with creamy white cabinets.
In a Modern or Contemporary Home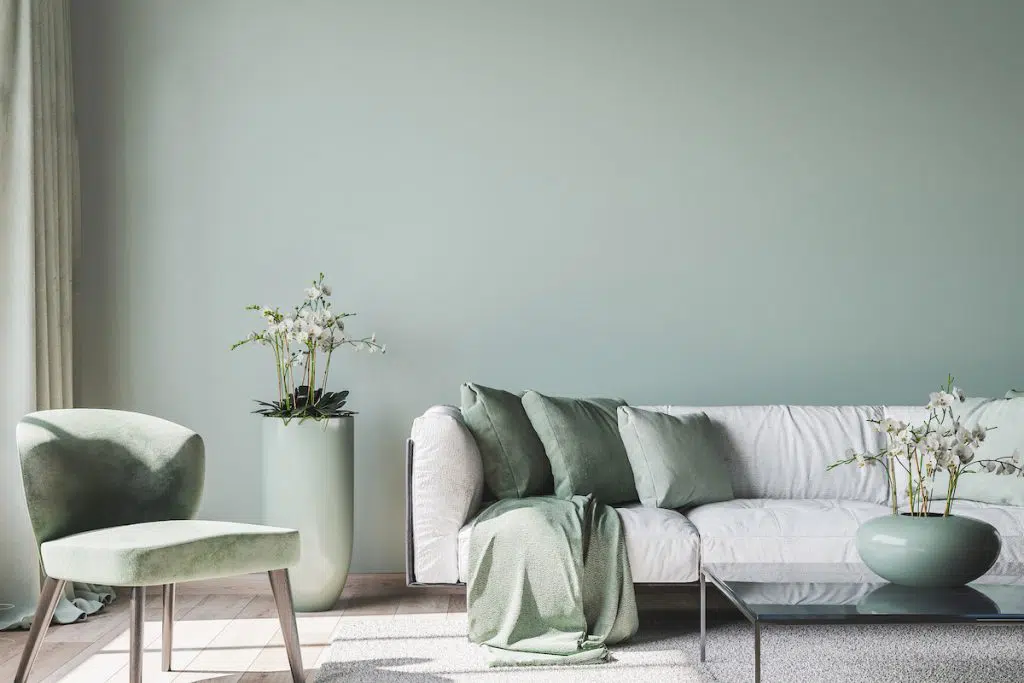 When styling Acacia Haze in a modern or contemporary home, pair the color with furniture that has clean lines and smooth, sleek surfaces. Use modern elements like metal, chrome, and glass. When it comes to decor, keep it minimal. Add visual interest through textures.
In Bedrooms and Bathrooms
Acacia Haze is a wonderful color to use in any room where you want to relax. That's why it's a great color for bedrooms. It will turn your room into a serene sanctuary. Pair with neutral linens and drapes to keep your bedroom open and airy. You can add contrast by adding deep gray accents. This refreshing color is also great for bathrooms. Keep things looking crisp with a light-colored vanity.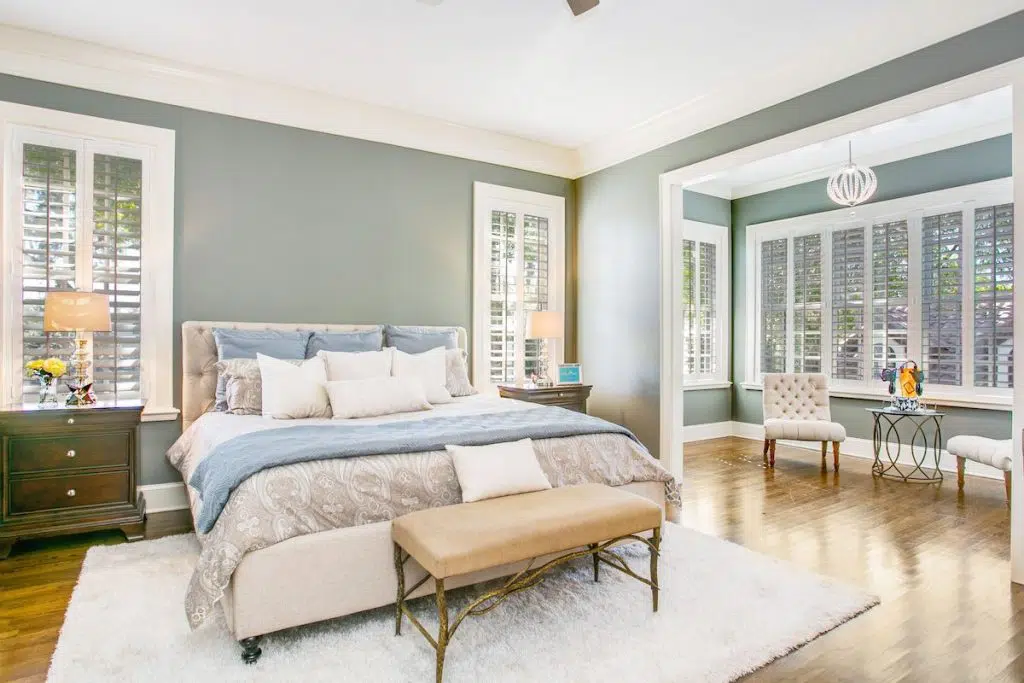 Coordinating Colors
Pair with Neutrals
Acacia Haze pairs wonderfully with neutrals. To pair with a warmer white, try Dover White (SW 6385). For a cooler contrast, try Spare White (SW 6203). Since Acacia Haze has warm brown undertones, it looks lovely with tans and deep browns. A great tan option is Favorite Tan (6157). For a deep brown, try Kaffee (SW 6104). Pairing the colors with grays is also an excellent choice, especially for modern-style homes. You can try Attitude Gray (SW 7060) or Night Owl (SW 7061).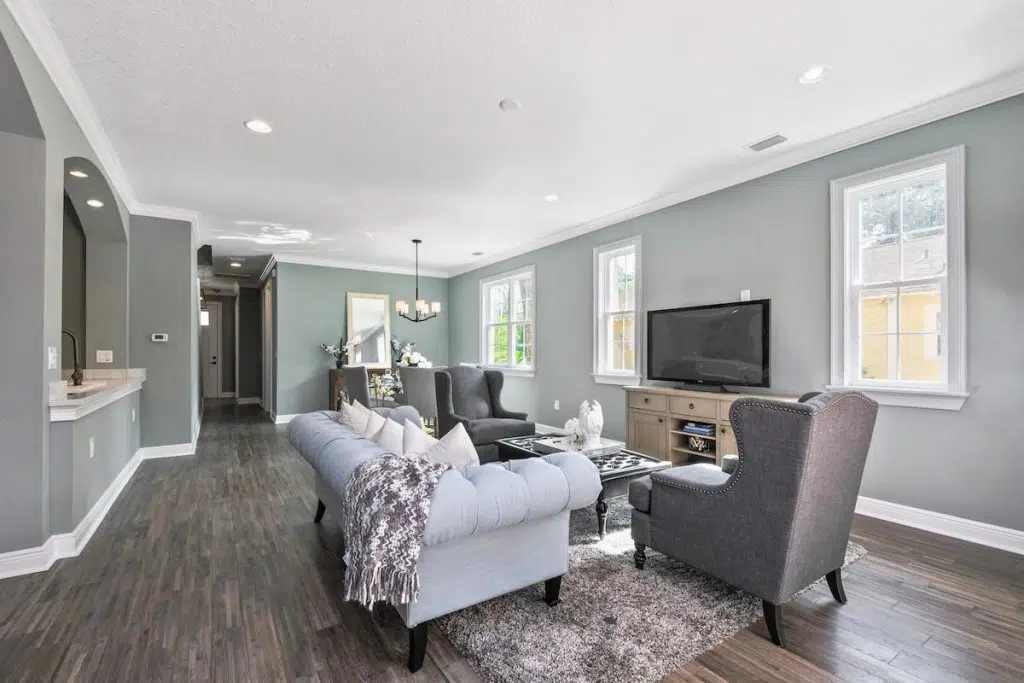 Pair with Warm, Complementary Colors
Want to add more color to your design? Pair Acacia Haze with terracotta or Spanish-style orange. You can try Rojo Dust (SW 9006). Certain shades of purple also pair well with Acacia Haze. For a deeper purple, try Quixotic Plum (SW 6265). For a more subtle purple, try Autumn Orchid (SW 9157).
Book A Color Consultation
Color can turn an ordinary house into an extraordinary home. As professional designers, we can help you determine which shades will work best for your home—inside and out. Contact us to book a color consultation with one of our talented designers today.